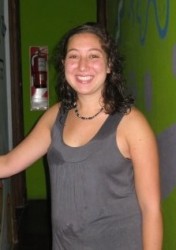 Rachel Shulruf.
Rachel Shulruf, who graduated from Drake University in May 2010 and is teaching English in Colombia, has received a Fulbright grant, which will enable her to teach English for a year in Brazil.
"I feel honored," Shulruf said. "I am grateful to all of the people
at Drake who helped me with my application, and I look forward to
teaching in Brazil."
Shulruf, originally from Buffalo Grove, Ill., is the daughter of
Deborah and Jay Shulruf. She graduated from Buffalo Grove High School in
2006.
Eleanor Zeff, the Fulbright Program adviser at Drake, assisted Shulruf throughout the application process.
"¨"We are all very excited to learn of her acceptance to the program
after this long and very competitive process," said Zeff, associate
professor of politics and international relations. "I can affirm that
Rachel is excellently qualified, and she is ready and willing to explore
and adapt to new cultures and ideas. She will be a wonderful ambassador
for Drake and for the U.S."
Shulruf previously applied for a Fulbright in 2009 and was selected
as an alternate. Since January, she has taught English in Colombia,
South America, through the Worldteach program.
"Currently, I teach sixth- through eighth-grade students in Santa
Ana, one of the poorest areas in Colombia," Shulruf said. "Since English
is largely the language of tourism, learning English can improve
people's quality of life. This has been an extraordinary experience so
far."
Global citizenship through service and multi-cultural understanding
Shulruf credited Drake with preparing her to teach abroad through
the University's international relations program and global citizenship
initiatives.
"I received a multifaceted education at Drake, which has qualified
me for this cross-cultural opportunity," Shulruf said. "Studying
sociology and international relations forced me to explore issues from
various perspectives and enhanced my intercultural understanding."
While at Drake, Shulruf received the Spring 2010 Ellsworth Woods
Most Outstanding International Relations Student Prize, the Presidential
and Trustee Scholarship, All American Scholarship and the Global
Ambassador Certificate. She volunteered with Drake's Center for Global
Citizenship, the Iowa Bureau of Refugee Services and Habitat for
Humanity.
After she returns from Brazil in 2012, Shulruf plans to pursue graduate studies in non-profit administration.
"In the future," she said, "I wish to use my education,
entrepreneurial skills, travel and teaching experiences to start my own
non-profit to help recent immigrants and refugees integrate into
American society."


Drake alumni pursue international understanding thanks to Fulbright Program
Since 2004, 14 Drake alumni have been named recipients of Fulbright
grants. The Fulbright Program, established in 1946, is the flagship
international educational exchange program sponsored by the U.S.
government.
The program is designed to increase mutual understanding between the
people of the United States and the people of other countries.
Candidates recommended for Fulbright grants have high academic
achievement, a compelling project proposal, demonstrated leadership
potential, flexibility and adaptability to interact successfully with a
host community abroad.