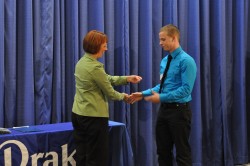 On Thursday, May 5, Drake University's College of Pharmacy and Health
Sciences (CPHS) will hold its annual Professional Development Seminar
and Pinning Ceremony.
The event will begin at 5:30 p.m. in Olmsted Center, 2875 University Ave.
Students in their third year of Drake's professional pharmacy
program and junior and senior health sciences students are invited to
attend the seminar. The event will include lectures on professional
etiquette, the interview process and the expectations of preceptors, as
well as a dinner.
The event will conclude with a Pinning Ceremony in Bulldog Theatre.
Raylene Rospond, dean of the CPHS, will present the students with either
a Doctor of Pharmacy or Drake Health Sciences pin. The students will
also receive a nametag to be worn during their upcoming capstone
experiences and rotations.
The ceremony will also include the presentation of the Larson
Engaged Practitioner Award and the Health Sciences Student Organization
Outstanding Student Award.
For more information about the event, contact Kelli Pitts,
professional and career development services coordinator, at
515-271-1978 or kelli.pitts@drake.edu.