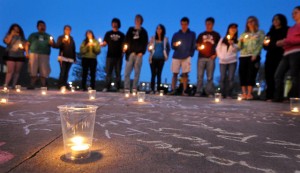 Sarah Andrews, a junior studying magazine journalism and graphic design, was named a national finalist in the Society of Professional Journalists Mark of Excellence contest.
She was recognized for her photographs of a candlelight vigil for a student who had died. To be recognized as one of the top three in the feature photography category is an impressive honor.
Sarah was one of two Drake University students who had advanced to the national competition. Jason Oelmann was entered for photo illustration. Four other Drake students had placed at the regional contest but didn't advance to the national competition.
You can see more of Sarah's work on Flickr.
The SPJ Mark of Excellence awards honor the best work in collegiate journalism. Student journalists submitted almost 4,000 entries this year.