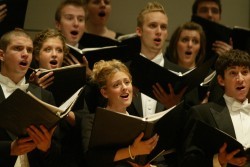 The Drake University Choir and Chamber Choir spring 2011 tour will include stops in Kansas and Missouri, where the ensembles will perform daytime concerts for high school audiences and public concerts in the evening.
The choirs, directed by Aimee Beckmann-Collier, will perform works by Franz Joseph Haydn, George Gershwin, Jules Massenet and Fanny Mendelssohn Hensel, as well as pieces by contemporary American, Lithuanian and Philippine composers.
Free and open to the public concerts will be performed on:

* Wednesday, March 2: The concert, which will begin at 7:30 p.m., will be held at Corpus Christi Church, 6001 Bob Billings Parkway, Lawrence, Ks. The Concert Choir of Lawrence Free State High School will also perform.

* Thursday, March 3: The Drake choirs will perform at 7:30 p.m. at Sacred Heart Church, 1115 Locust Street, Columbia, Mo.

* Friday, March 4: In a joint concert with the Concert Choir of the St. Louis Symphony Children's Chorus, the Drake choirs will perform at 7:30 p.m. at Bonhomme Presbyterian Church, 14820 Conway Road, Chesterfield, Mo.
In addition to their public performances, the choirs will give daytime concerts at high schools in Liberty, Mo., Lee's Summit, Mo., Blue Springs, Mo., and Oakville, Mo. They will also perform at the University of Missouri Conservatory of Music and Dance.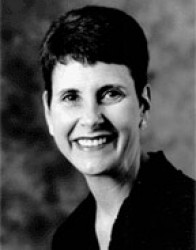 Aimee Beckmann-Collier, director of choral studies.
Drake's select choirs seek to share joy of music through touring
The Drake Choir is the University's select touring ensemble. The choirs performs regionally on an annual basis and internationally every
four years. The ensemble has performed in Germany, Austria, Italy and
the Czech Republic, and has twice sung in Carnegie Hall.
The Drake Chamber Choir, an ensemble composed of twenty-eight singers,
serves as the featured ensemble for the annual Drake University Madrigal
Dinners. Last year, the choir performed in England at the cathedrals of
Salisbury, Ely and Coventry; St. Martin-in-the-Fields on Trafalgar Square in London; and the chapels of St. John's College and
Cambridge University.
Beckmann-Collier has served as Director of Choral Studies at
Drake since 1989. She is a frequent clinician,
adjudicator and guest conductor for high school and college choral
festivals throughout the country, and she serves as president of the
North Central Division of the American Choral Directors Association. She
is also the chair of the Iowa Comprehensive Musicianship Project.
Beckmann-Collier received her master's degree and doctorate from the
University of Iowa, and her bachelor's degree from Saint Mary's College
in Notre Dame, Indiana, which recently honored her with its
Distinguished Alumna Award.
She has received Drake University's Madelyn Levitt Award for
Distinguished Community Service, the Iowa Music Educators Association
Distinguished Service Award and the National Federation Interscholastic
Music Association's Outstanding Music Educator Award.