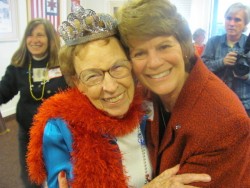 Mrs. Purcell at her birthday party in Murrieta. credit: Maggie Avants (Murrieta Patch, 2011)
On February 22, 1911, Amelia Marguerite Sherriff was born near Des Moines, Iowa. Farm bred and schooled in a one-room schoolhouse incorporating grades 1 through 8, she advanced quickly through school, finishing high school at age 16.
She attended Drake University and graduated from this institution in 1929 at 18 years of age with a degree in education. In the 1930's, Marguerite became a kindergarten pioneer in rural Iowa where the concepts of early childhood education were just getting their start. She taught kindergarten for eight years in Iowa.
She married Jerome Purcell in 1937 and they relocated to California where Marguerite Purcell took up teaching once again until her retirement at age 62. After retirement, the couple settled in Wildomar, California.
"The secret to being happy is to accept things, don't hold grudges, and be thankful," said the Wildomar resident and centenarian, who celebrated her 100th birthday among more than 60 friends and family at a surprise party.
"If I counted my blessings I would be here all day."
In addition to playing cards, Marguerite Purcell spends her free time quilting —- she's made dozens of quilts for her grandchildren and great-grandchildren. She also listens to talk radio, watches Fox News, writes in a journal, eats See's dark chocolate, reads and plays games on her laptop computer.