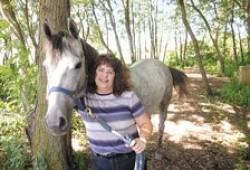 Carol Griglione in a Business Record photo from August, when she was honored among the 2010 Women of Influence.
Carol Griglione, president of the Animal Rescue League of Iowa's Board of Directors, will be the featured speaker at Let's DU Lunch on Wednesday, March 2, at the Des Moines Club, 666 Grand Ave.
The lunch, sponsored by Drake and the Greater Des Moines Partnership, is open to the public. The event will begin with networking at 11:30 a.m., followed by lunch and the program at noon.
Griglione has been volunteering for the Animal Rescue League for 19 years and was named a Woman of Influence by the Des Moines Business Record last August for her work with the ARL and animal issues in Iowa. She handles marketing and public relations, special events and fundraising for the ARL. She also serves on the board of the Iowa Federation of Humane Societies
and is the state director for Iowa for the Humane Society of the United
States.
She holds a degree in corporate communications from Simpson College and received her Master of Public Administration from Drake in 2005. She serves as chief of staff in the law department of Principal Financial Group.
The Let's DU Lunch spring series will conclude on April 6 with a speech about "Advancing Central Iowa" by Drake graduate Martha Willits, president and CEO of the Greater Des Moines Partnership.
Each luncheon costs $17. There is a special young professional rate of $13 for those age 35 and under. Payment may be made in advance or at the door only. For reservations,
visit the Drake alumni website.