Karen and Herb Baum, left, gather with President Maxwell, Professor Frank and Provost Renner after the ceremony.
Garry Frank, professor of public administration at Drake University, was honored as the inaugural Herb and Karen Baum Chair of Ethics and the Professions during an installation ceremony Friday, Jan. 14.
Members of the Drake Board of Trustees, University administrators, faculty and staff attended the ceremony in the Principal Financial Group's offices at 711 High St.
The university chair was endowed earlier this year through a $2 million contribution to the University by Karen and Herb Baum, who graduated from Drake's College of Business and Public Administration in 1958.
"We are here today to thank Herb and Karen for their very generous gift and to honor professor Garry Frank," Drake Provost Michael Renner said as he opened the ceremony. "This is the first university chair at Drake; we hope that it will be the first of many."
Drake President David Maxwell then described the Baums' gift as "the perfect example of philanthropy at its finest."
"I am passionate about ethics in business," Herb Baum said. "I am passionate about ethics in the world we live in and I'm going to do everything in my power in the time I have left . . . to try to get across in presentations and speeches the meaning of being ethical and the importance of doing the right thing in how we operate."
Baum, who recently was elected to the Drake Board of Trustees, spent the bulk of his career promoting business ethics and is the co-author of "The Transparent Leader: How to Build a Great Company through Straight Talk, Openness and Accountability."
He is retired chairman, president and CEO of Dial Corp., now a subsidiary of Germany's Henkel Group. He previously held executive positions at Hasbro Inc., Quaker State Corp. and Campbell Soup Co. He has been honored with Drake's Alumni Distinguished Service Award and Alumni Achievement Award.
"I'm delighted to have Garry Frank, a man who has spent more than 25 years teaching ethics at Drake, selected as the recipient of this chair," Baum said. "I am confident he will bring emphasis to ethics themes across the curriculum in Drake's various colleges and schools."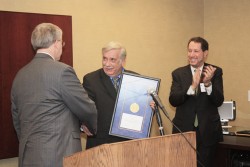 Provost Michael Renner congratulates Garry Frank as President Maxwell applauds.
"To be selected for this position is indeed a humbling experience,"
Frank said. "Herb and Karen Baum's gift elevates the importance of
ensuring that Drake students are prepared to meet the ethical challenges
they will encounter once they leave the classroom and enter the working
world."
Frank, who joined Drake in 1983, specializes in instructing, writing
and speaking on ethics along with corresponding policy issues in public
service, nonprofit groups and private industry. He is co-author of
several books and has published more than 40 articles on business and
professional ethics issues. He has won numerous awards, such as the
2004 Outstanding Graduate Teaching Award in the College of Business and
Public Administration and the 2001 Governor's Volunteer Award for
Outstanding Service to the State of Iowa.
Frank received his bachelor's degrees from St. Mary's University of
Minnesota and the University of Minnesota. He also holds master's
degrees from the University of South Dakota and the University of
Western Ontario, as well as a doctorate from the University of Nebraska
in Lincoln.
Frank's responsibilities as the Baum Chair of Ethics and the
Professions include conducting an annual symposium and interacting with
organizations in the Des Moines area regarding ethics and values in the
workplace.
There will be a competitive application process every three years to
select the next Baum chair. Faculty members with the rank of full
professor may apply for the position, which will rotate among Drake's
six colleges and schools.