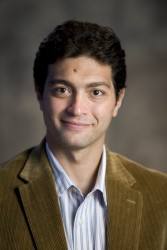 Mahmoud Hamad
Drake University honors course "Islam in the 21st Century," taught by Assistant Professor of Politics Mahmoud Hamad, aims to examine the world's second-most popular religion (behind Christianity) and help students understand its place in contemporary global politics.



A front-page article in the Nov. 22 edition of the Des Moines Register profiles the course, discussing the timeliness and importance of a forum for fair-minded and balanced study of Islam. Read the entire
Hamad, who was raised in Egypt, said that he hopes to broaden students' views of Muslims.
"The students appreciate the opportunity to learn from someone from a different cultural and religious background," Hamad told the Register. "Democracy can't function without engaged, committed and educated citizens, and Islam's place in the West is going to be on the policy radar for a very long time."
The course covers the complexities of 21st century Islam, from the basic tenets of the religion, to the treatment of women, to democracy in Islamic countries, to perceptions about Islam in the United States. The class is more debate than lecture.
"It's been eye-opening for me," said Isaiah Ellison, a senior politics major, from Minneapolis, Minn. Ellison, who serves as president of the Drake Muslim Students Association, is the son of Rep. Keith Ellison of Minneapolis, the United States' first Muslim congressman.
"The students' debate comes in the shadow of a time when many American Muslims say they feel more cognizant of their 'Muslim-ness,'" Ellison said. "Being able to talk about Islam with other Americans who aren't Muslim has been good for me. People understand the complexity of the issue."
"The average American citizen really has no idea what Islam really is about, myself included," said Merle Domer, a senior religion and philosophy double major from Des Moines. "I'm a religion major. I thought I knew the religion, but Americans get such a diluted version of what the average Muslim is really like. All we hear is the rhetoric of the media."
"To many Muslims, it's offensive that their religion is being used as a scapegoat or a scarecrow to achieve limited political objectives," Hamad said. "We need to provide students with something that is relevant, informative and thought-provoking about Islam."
Hamad joined the Drake faculty in the fall of 2008. He received his doctorate from the University of Utah and his bachelor's and master's degrees from Cairo University, Egypt. His teaching and research interests focus on Middle East politics, comparative judicial politics, civil-military relations and the intersection of religion and politics.
He has taught at Cairo University, Brigham Young University and the University of Utah. He was a Fulbright scholar twice during his graduate studies and in the summer of 2008 he attended Brandeis University's Summer Institute for Israel Studies. His current research projects focus on the judicialization of politics in the Middle East.