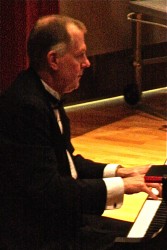 Tom Harvey
Tom Harvey, staff piano accompanist for several Drake University music ensembles, died suddenly on Saturday, Nov. 20, at his home in Des Moines.
Harvey, 57, had been preparing to perform with the University's choral ensembles at a concert held on Sunday. The concert was dedicated to his memory.
A memorial service will be held on Wednesday, Dec. 1. Current students and alumni of the Drake Choir will participate in the service, which will start at 1 p.m. at Westminster Presbyterian Church, 4114 Allison Ave.
in Des Moines.
Harvey was the accompanist for the Drake Choir, Chamber Choir and Drake
University/Community Chorus, as well as for students in several voice
studios and the Drake Opera Theater.
An article in today's edition of the Des Moines Register describes the Drake community's response to Harvey's death.
Aimee Beckman-Collier, director of choral studies, said that Harvey's death profoundly affected the students who knew him.
"Tom was somebody who was part of the fabric of Drake students' lives," Beckman-Collier said. "He will be dearly missed."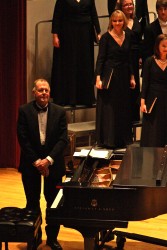 Tom Harvey at a Drake performance.
Harvey, an organist by training, had been a staff accompanist at Drake
since 2001. He worked with voice students sometimes on a daily basis.
"Tom was my accompanist and dear friend," said Jon Edgeton, a junior
music education and journalism double major from Fairfield, Iowa. "He
taught me a lot about myself as a person and as a musician. I saw him
practically every day at choir or my voice lesson. As a mentor, he
understood people, what motivated them and what inspired them. He played
off that and inspired us all."
Harvey also served as an accompanist for Elizabeth Moldovan, a senior music education major from Sac City, Iowa.
"He took music seriously, but he also knew how to have fun," said
Moldovan, who performed a recital with Harvey earlier this month. "He
built relationships with students and professors, and he was a great
collaborator. Having the opportunity to work with him was an honor. He
helped us make the music the best it could be, and he would reassure us
when we were nervous. He was a credit to the music department."
Harvey is survived by his mother, Harriet of Des Moines; sister, Kris Weyant of Truro; and a niece, Antonia Weyant.
Memorial contributions may be directed to Drake University Music Department.