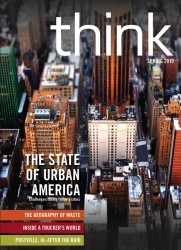 A Drake journalism capstone publication, Think, won an Associated Collegiate Press Pacemaker Award this year. News/Internet and magazine majors produce the newsmagazine as a semester-long project during their senior year.
Think has been a Pacemaker finalist three times since its inception four years ago, winning in 2007 and again this year.
"That's an extraordinary run of success," said Jill Van Wyke, assistant professor in the School of Journalism and Mass Communication. "It's a credit to the student staffs, to the journalism faculty and to the faculty across the university who help mold such well-rounded journalists."
Think's 2010 editor in chief was Matt McGuire, who's now attending Duke University School of Law.
"The 2010 staff achieved a magazine that excelled in both editorial content and graphic design," said Van Wyke. "It was an ideal fusion of reporting, writing, editing, photography and design. It's always a pleasure to see how each class of seniors makes the magazine its own."
Four other Drake publications were named finalists in the contest:

515, a magazine produced by senior magazine students
Drake Magazine, a student-produced magazine
Periphery, an art and literary journal
The Times-Delphic, Drake's campus newspaper
In addition, Meredith Gallivan, a spring 2010 graduate, won honorable mention in the individual design competition for a feature spread in Drake Magazine.
No other institution in the nation had as many finalists for a Pacemaker as Drake.
"I'll put our Drake students and our student publications up against those of any other school in the country," Van Wyke said. "To have one Pacemaker finalist is a rare and distinct honor. To have five is unprecedented."
Each year, the Associated Collegiate Press honors the best in college publishing. Drake publications are perennial finalists in the contest and frequent winners.
ACP is a division of the National Scholastic Press Association, which provides journalism education services to students, teachers, media advisers and others throughout the United States and in other countries.