Men's soccer trio garners ESPN Academic All-District honors
The Drake men's soccer team earned recognition for its efforts in the classroom as three Bulldogs were tabbed as first team ESPN Academic All-America All-District VII selections.
Named to the first team to remain in contention for national Academic All-America laurels were senior defender Nick Foster (West Des Moines, Iowa/Valley), junior forward Hunter Kennedy (Cedar Rapids, Iowa/Cedar Rapids Washington) and junior midfielder Thomas Ostrander (Fort Dodge, Iowa/St. Edmond Catholic).
To be nominated, a student-athlete must be a starter or important reserve with at least a 3.30 cumulative grade-point-average (on a 4.0 scale) at his/her current institution. Nominated athletes must have participated in at least 50 percent of the team's games at the position listed on the nomination form (where applicable).
A business major, Foster maintains a 3.52 GPA. He has started all 16 games for Drake, registering a goal and an assist from his defender's position.
Majoring in health sciences, Kennedy owns a 3.61 GPA. Appearing in all 16 contests for the Bulldogs, including eight starts, Kennedy has collected a goal, while sharing the team lead in assists (3).
An accounting major, Ostrander holds a 3.62 GPA. Playing in all 16 games for Drake, including 15 starts, Ostrander leads the team in goals (5), points (10) and game winners (2), while ranking second in shots (29) and shots on goal (13).
The Bulldogs return to action with a road game at 2 p.m. Saturday, Nov. 6, battling Eastern Illinois.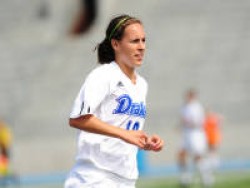 Laura Moklestad
Six earn All-MVC women's soccer honors
Six members of Drake women's soccer team garnered All-Missouri Valley Conference honors when the league announced its annual plaudits at the tournament banquet in Omaha, Neb., on Thursday evening (Nov. 4).
Sophomore Laura Moklestad (Des Moines, Iowa/Roosevelt) was honored as a first team All-MVC selection, while freshmen Paige Dusek (St. Charles, Ill./St. Charles North), Megan Fisher (Ankeny, Iowa/Ankeny) and Kalena Litch (Plymouth, Minn./Wayzata) collected both second team All-MVC and All-Freshman team recognition. Pulling in honorable mention laurels were senior Bailey Dorrington (Cedar Rapids, Iowa/Xavier) and redshirt junior Ali Walsh (Florissant, Mo./Hazelwood Central).
After earning All-Freshman laurels a year ago, Moklestad was chosen as a first-team recipient, registering team-leading marks in goals (5), points (11), shots (29), shots on goal (21) and second in game winners (2).
Moklestad ranks fifth in the MVC in game-winning goals, sixth in shots and 10th in goals and points per affair, while finishing third, fourth, fourth and eighth, respectively in league-only games in goals, game-winning goals, points and shots per match.
Dusek turned in a breakout rookie campaign recording team highs in goals (5), points (11) and game-winning goals (4), while rating second in shots (35) and shots on goal (14).
Dusek leads the league in game-winning goals (0.21), while ranking 10th in goals (0.26), points (0.58) and shots per game (1.84). In conference-only matches, she was second in game-winning goals (0.33), third in goals (0.50), seventh in points (1.00), ninth in shots per contest (2.33).
Fisher crafted a stellar rookie campaign from her defender's slot proving to be a dual threat for the Bulldogs helping anchor a defensive unit that posted a school-record nine shutouts, while offensively providing four goals and two assists.
Litch was thrown into the fire immediately for Drake and she responded by establishing school records for shutouts with nine, while pulling in 91 saves and owning a single-season Bulldog record 0.75 goals against average.
Litch ranks first, third, third and third, respectively, in the MVC in shutouts (0.47), goals against average (0.75), save percentage (.858) and saves per game (4.79), while finishing second in goals against average (0.80), second in save percentage (.853), third in shutouts (0.33) and fourth in saves per game (4.83) in league-only tilts.
Earning honorable mention honors for the second consecutive season was Dorrington, who helped anchor a Drake defensive unit that posted a school-record nine shutouts, while offensively providing a goal on three shots.
Having battles injuries in each of the last two campaigns, Walsh fashioned a strong season at both ends of the pitch sparking the Bulldogs to their first 10-win season since 2006.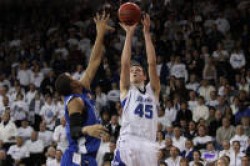 Seth VanDeest
Drake's VanDeest earns MVC preseason basketball honor
Drake sophomore center Seth VanDeest (Bettendorf, Iowa) received
honorable mention honors on the 2010-11 Missouri Valley Conference Men's
basketball preseason team released Oct. 26.
The six-foot 11-inch, 244-pound VanDeest was named to the Missouri
Valley Conference All-Freshman Team last year. He started all 33 games
at center, averaging 8.5 points and 4.2 rebounds while shooting 48.8
percent.
VanDeest ranked second in the MVC in blocked shots, setting a Drake
freshman single-season school-record 45 (1.4 avg.). He was a two-time
MVC Newcomer of Week and set a Drake freshman single-season free throws
made record (80). He ranked third on Drake freshman single-season
scoring (279) and rebounding (139) charts.
Drake was picked to finish eighth in the preseason poll conducted by
the league's coaches, media and sports information directors.
Wichita State, with four returning starters, was the overwhelming choice to finish first in the preseason poll.
Missouri State was picked to finish second, followed by Northern
Iowa, Creighton, Bradley, Illinois State, Indiana State, Drake, Southern
Illinois and Evansville.
The Bulldogs will play their first exhibition game Saturday, Nov. 6,
when they take on Wisconsin-Parkside at 7:05 p.m. at the Drake Knapp
Center. The team plays Texas Southern at home on Nov. 13, then travels
to Iowa State on Nov. 17.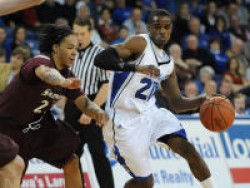 Josh Young
Former Drake basketball player Young taken in 3rd round of NBA D-League draft
Josh Young, who became the career scoring leader in Drake basketball
history this past season, was selected by the Austin Toros in the third
round of the 2010 NBA D-League draft Monday night.
Young will report for training camp next Monday. The Austin Toros are affiliated with the San Antonio Spurs of the NBA.
Young graduated from Drake as the school's career leader in scoring
(1,789 points), three-point baskets (255) and free throws made (442). He
was one of 10 national finalists for the Lowe's Senior Class Award in
college basketball.
A three-time All-Missouri Valley Conference performer, Young was
named to the National Association of Basketball Coaches All-District 16
first team this past season.
He closed out his career, scoring 20 or more points in six of his
last 12 games. He led the MVC in scoring as a sophomore with a 15.9
average. Young averaged 14.4 points, 3.9 rebounds and 2.7 assists in
2009-10.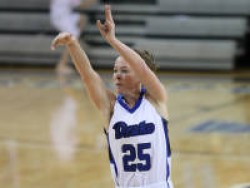 Carly Grenfell
Freshmen key Drake women past Upper Iowa, 80-52
Head coach Amy Stephens made it clear before the season that her
freshmen would play, even start, with regularity this season. Drake's,
80-52, exhibition victory over Upper Iowa Monday, Nov. 1, at the Knapp
Center demonstrated why.
Freshmen Angela Christianson (Alexandria, Minn.), Carly Grenfell
(York, Neb.) and Morgan Reid (North Kansas City, Mo.) combined for 38
points and all played more than 22 minutes to help lead the Bulldogs to
victory.
Grenfell connected on 5-of-6 shots, including 3-of-4 from
three-point range, and tied teammate Kristin Turk (Des Moines, Iowa) for
the game lead with 19 points. Christianson added 10 points on 5-of-13
shooting and totaled four assists and three rebounds. Reid tallied nine
points, all in the first half, on 4-of-5 shooting.
Junior Amber Wollschlager (Milbank, S.D.) added 10 points, four
steals and six boards in a team-high 27 minutes. Rachael Hackbarth
(Colgate, Wis.) notched four points and pulled down a game-best seven
boards.

The pair helped Drake extend a 40-24 rebounding advantage.
As a team, the Bulldogs were 22-of-26 from the free throw line,
compared to Upper Iowa's 11-of-13 night. Turk led Drake with an 8-for-8
effort from the line while adding three assists, five steals and four
rebounds.

The senior made four free throws and a jumper to push Drake on an
8-0 run with eight minutes remaining in the contest to ensure the
victory.
The Bulldogs wrap up their exhibition schedule Saturday, Nov. 6,
against Quincy (Mo.). Tipoff is scheduled for 2:05 p.m. in the Drake
Knapp Center.
In this year's Missouri Valley Conference preseason poll, Missouri
State finished first, followed by Northern Iowa, Creighton, Illinois
State, Wichita State, Bradley, Drake, Indiana State, Southern Illinois
and Evansville.

Coach Stephens previewed the upcoming women's basketball season at
the first Drake Fast Break Women's Basketball Monthly Luncheon on
Tuesday, Nov. 2, at Christopher's Restaurant in Beaverdale.
The public is invited to the buffet lunch series, which starts at
11:30 a.m. with the program beginning at 12 p.m. Other luncheon dates
are Dec. 14, Jan. 25, 2011, and Feb. 22, 2011.