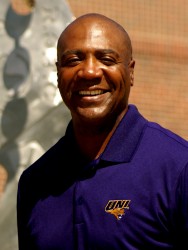 Danny Harris
A star athlete who overcame drug addiction after being barred from track and field competition in 1996 will give a lecture at Drake University about the consequences of drug and alcohol abuse.
Danny Harris, a former Iowa State University football player and international track champion, will give a free public lecture titled, "Overcoming Obstacles While Pursuing Excellence." The talk is set to begin at 11 a.m. Thursday, Oct. 28, on Pomerantz Stage in Olmsted Center, 2875 University Ave.
Harris plans to tell his story of athletics, addiction, redemption, and the life lessons he learned along the way. The lecture is sponsored by Drake's College of Pharmacy and Health Sciences, the student-organized group BACCHUS (Boost Alcohol Consciousness Concerning the Health of University Students) and Drake Athletics, which will provide free pizza.
Harris was a first-year student at Iowa State University when he secured a place on the 1984 U.S. Olympic Track and Field Team. He won a silver medal in 400-meter hurdles during the games in Los Angeles.
During his three years as a Cyclone, he broke the World Junior Record in 400m Hurdles, received All-American honors 12 times, garnered 16 Big 8 Championship titles and three NCAA Championships and was undefeated as a collegiate athlete with a record of 37-0. He's one of the few athletes in history to receive the Triple Crown Title, having won the 400m Hurdles at Kansas, Drake and Texas Relays in a single season.
Harris' professional career saw him win numerous titles internationally, including a World Championship Silver Medal in 1987 and a No. 1 world ranking in the 400m hurdles in 1990. He is perhaps most famously known for ending the 122-race winning streak of the legendary Edwin Moses in Madrid in 1987.
Despite Harris' lucrative endorsement contracts and lifestyle of a famous athlete, his career ended abruptly in 1996 when he tested positive for cocaine and was banned from the sport. He battled addiction for the next decade of his life.
Today, Harris is sober, married and received his bachelor's degree from Iowa State University in May 2010. In July, he became the men's sprints and hurdles coach for the University of Northern Iowa.