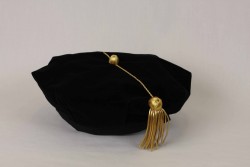 Classes have started for the 2010-2012 doctoral cohort. Twenty-two individuals were admitted into the Doctorate of Education Program. This cohort will benefit from a newly designed dissertation seminar course that will take place at the conclusion of their coursework and successful completion of comprehensive exams. The 2010-2012 doctoral cohort is:
Cathryn Beck-Cross, Laura Bernstein, James Bieschke, Sharon Brindle, Linda Carroll, Robert Cassidy, Brandon Eighmy, Garry Fuller, Joseph Horton, Roger Karnes, David Klamfoth, Paul Knupp, Timothy Lambersten, Barbara Niemeyer, Michael Penca, Rebecca Peterson, Stephen Pettit, Tabetha Rabenberg, Tiffany Roby, Dana Strother, and Danielle Trimble.
In other doctoral program news, two doctoral candidates have successfully defended their dissertations and will graduate this semester with their Doctorate of Education degree. Congratulations to:
•
Dr. Jeff Hawkins
who successfully defended his dissertation titled, The Impact of Teacher Perception of Student Effort and Student Attitude on Grading of Secondary Students.
•
Dr. Heather Farris-Vermeer
who successfully defended her dissertation titled, The Adults Talk Way Too Much: Interviews with Low-Income Middle School Girls.
Applications for the 2012-2014 cohort will open on May 1, 2011 with a deadline of December 1, 2011. Please contact Dr. Robyn Cooper (robyn.cooper@drake.edu) for questions and information on the SOE doctoral program.