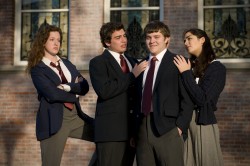 From left: Emily Draffen, Eric Ferring, Kent Reynolds and Sarah Hoch star in Drake's production of "bare."
Drake University Theatre's production of the contemporary musical "bare" opens Thursday, Nov. 11, in the Performing Arts Hall of the Harmon Fine Arts Center, 25th Street and University Ave.
"bare" is the modern-day retelling of "Romeo and Juliet" through Peter and Jason, seniors at a Catholic boarding high school who are dealing with their mutual romantic attraction while trying to maintain the values of the Catholic Church.
At its heart, "bare" is a story of learning how to love yourself for who you are.
"bare" premiered in Los Angeles in 2000, followed by an off-Broadway run in 2004. The musical features music by Damon Intrabartolo and lyrics by Jon Hartmere Jr.
"The music is gorgeous and it's a beautiful story," said Director Karla Kash, Drake assistant professor of theatre arts. "And with the most recent reports of eight homosexual boys who committed suicide due to bullying for their sexuality, it's very timely."
With its cast of 27, stunning music and great roles, the production lent itself to Drake Theatre, Kash said.
"We chose to do this show because it's a challenging score for our students," said Kash. "It's also a story that our students can relate to."
The show, which runs approximately two hours, is not intended for children because it contains mature content, strong language and brief nudity. Audience members should also be comfortable seeing same-sex couples in intimate settings.
Performances will begin at 8 p.m. on Nov. 11, 12 and 13 and at 2 p.m. Sunday, Nov. 14.
Admission is $6 for adults, $4 for students, senior citizens and those with a Drake ID. Tickets are available at the Fine Arts Center Box Office. Reservations, which are suggested, may be made in person or by calling 515-271-3841.