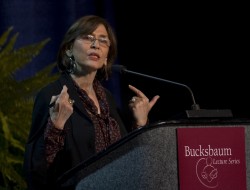 Author Azar Nafisi presents the 25th Martin Bucksbaum Distinguished Lecture.
Bestselling author Azar Nafisi championed the role of curiosity and imagination in informing and uniting diverse groups of people as she presented the 25th Martin Bucksbaum Distinguished Lecture at Drake University on Wednesday, Oct. 27.
The Iranian-born author of "Reading Lolita in Tehran: A Memoir in Books," told a crowd of about 1,400 in the Drake Knapp Center that a passion for books and knowledge is required to overcome an environment in the United States, where "ignorance has become a badge of honor."
"In a democracy, the tradition is to have a constant and continual conversation with those who are not like you," Nafisi said. "And yet we have become so used to this smugness, this complacency, of only listening to those who will reaffirm us… Ignorance has become a sort of badge of honor."
She referenced dozens of authors during her lecture, emphasizing the value of literature in expressing values and life experiences in a universal way. She told of her love of books and libraries and described reading as an act that transforms far-away people into "intimate strangers."
A photo gallery from the lecture, and morning question-and-answer session with students, is available at this link.
The hour-long speech, which prompted applause on several occasions and drew a standing ovation, marked the 15th anniversary of the Bucksbaum Lecture series and the 25th Bucksbaum Lecture.
Drake President David Maxwell opened the evening by thanking the Bucksbaum family for endowing the lecture series. "This was all made possible by Melva and the late Martin Bucksbaum," he said, noting that Martin was one of Iowa's most successful business leaders and a member of Drake's governing board for more than 15 years.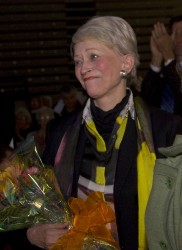 Melva Bucksbaum holds flowers given to her by Student Body President Samantha Haas
Lecture series to be enhanced by $2.5 million gift
President Maxwell then announced that Melva and Mary Bucksbaum have
committed a $2.5 million gift as part of the University's
distinctlyDrake fundraising campaign.
"The gift," Maxwell said, "will be used to expand the impact of the
Bucksbaum Distinguished Lectureship by supporting the appointment of
Bucksbaum Family Distinguished Visiting Scholars, bringing experts in a
variety of fields to the campus for a semester at a time to engage us
all in critical discussions that our Bucksbaum lecturers have typified
over the years."
Renee Cramer, assistant professor and chair of the Law, Politics and
Society program, then introduced Nafisi with an explanation of why she
assigns "Reading Lolita in Tehran" to her students.
"'Memoir?' they ask," Cramer said, "knowing I normally deal with law
and political theory. . . Dr. Nafisi's memoir is an example of the role
that civil discourse, deep conversation and courageous sharing can play
in bringing about personal and social transformation."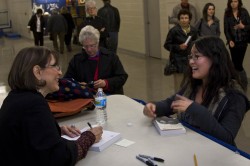 Azar Nafisi autographs books after the lecture.
Author shares her concerns about American politics
The outspoken author, who was expelled from the faculty of the University of Tehran in 1991 for refusing to wear the mandatory veil, has become a U.S. citizen and teaches at Johns Hopkins University. She shared her observations about U.S. politics on the eve of the mid-term election.
Recent political debates, Nafisi said, primarily show candidates who seem to be talking only at one another, rather than with one another.
Nafisi said that unwillingness to learn about opposing perspectives, and to acknowledge the commonalities between human beings, undermines civil discourse.
She cited two examples of the lack of civility in political advertising and commentary: A series of ads by Christine O'Donnell, a candidate for U.S. Senate in Delaware — the first in which O'Donnell proclaimed, "I'm not a witch," and another in which she proudly stated, "I didn't go to Yale" — and comments by comedian Joy Behar, who called Nevada Senate candidate Sharron Angle the "B-word" on television's the view. (Behar did not abbreviate the "B-word;" Nafisi did.)
"Anyone who has read their Jane Austen knows that civility and manners are not just a formality," Nafisi said. "Manners mean that you are in fact not blind to the others; that you listen to others. That you see others and that you acknowledge others as you want them to acknowledge you."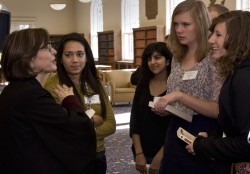 Nafisi speaks with students after a Q&A session.
Students quiz author about Iran, women's rights
On the morning before the lecture, Nafisi fielded questions from about 50 students in Cowles Library. Prominent topics included women's rights, the totalitarian regime in Iran and the connecting power of the Internet.
"It was an absolutely amazing opportunity," said Sean Conard, a sophomore international relations major from Green Bay, Wis. "She cleared up a lot of misconceptions about Iran and women in Iran."
Nafisi described a progressive Iran, forward-thinking on issues including women's rights, prior to the Islamic Revolution of 1979. The post-revolutionary regime stripped women of their right to work in certain jobs, reduced marriage age for females from 18 to 9 years old and prohibited women from leaving the country without their husbands' consent — largely in the name of the Islamic religion.
Nafisi said media outlets and political leaders in the United States speak in oversimplifications that fail to adequately characterize the nuance and diversity of Iranian culture.
"There are so many misconceptions about Iran that all the cultures and complexities are reduced to one component — religion," Nafisi said. "All the greatest poets that we had 1,000 years ago, which Emerson and Goethe loved and translated, are forgotten and we are reduced to 'Women being stoned to death.' "
Conard, the sophomore from Green Bay, Wis., asked Nafisi whether she believed the regime in Iran would fall; and, if so, whether it would fall due to internal or external pressures. "¨"¨"There is always the danger in a volatile political situation that there will be a military coup," Nafisi said. "¨"¨
But, she said, it is more likely that the regime will disintegrate much as the Soviet Union did. ҬӬ
She described a young generation of Iranians who use the Internet to plug into other cultures, values and beliefs. More than 370,000 people signed a petition this year encouraging the Iranian government to abolish stoning as a method of execution after a 43-year-old mother of two was sentenced to death for adultery. ҬӬNafisi said American students who want to make a difference in Iran can do so by reaching out to Iranian students on Twitter, Facebook and other web forums.
"¨"¨"When I talk about support from the outside," Nafisi said, "these are the things that I mean."