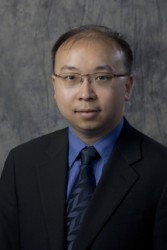 Peter K. Yu
A commissioned article by Peter K. Yu, the Kern family chair in intellectual property law at Drake University, has been published and translated into multiple languages by the U.S. State Department.
The U.S. State Department commissioned Yu to write an article for its monthly publication, eJournal USA. His article appears in the June 2010 issue, which focuses on the topic of defining Internet freedom. It has been distributed throughout the world via U.S. embassies and consulates.
The article is titled "Promoting Internet Freedom Through the Copyright System."
"Internet freedom and intellectual property rights are complementary protections," Yu writes in the opening paragraph, "but they sometimes imply competing values, resulting in conflicts. Because these conflicts vary according to historical, political, social, cultural, and religious contexts, the intellectual property standards each country has fashioned have different ramifications for the protection of Internet freedom."
The article continues to explore the tension between intellectual property rights and Internet freedom. It emphasizes the importance of tailoring legal rights to local conditions. It concludes by underscoring the need to harness the copyright system to promote Internet freedom.
Yu's article has been translated to Arabic, Chinese, French, Persian and Spanish. Translation to Russian is forthcoming.
Yu is the founding director of the Intellectual Property Law Center at Drake University Law School. He is a leading expert in international intellectual property and communications law. He also writes and lectures extensively on international trade, international and comparative law and the transition of the legal systems in China and Hong Kong.
He currently serves on the executive committee of the American Branch of the International Law Association, a prestigious international nongovernmental organization founded in Brussels in 1873. He is also the general editor of The WIPO Journal, published by the World Intellectual Property Organization in association with Sweet & Maxwell.
Born and raised in Hong Kong, Yu speaks and writes in both Chinese and English. He has spoken at events organized by various international organizations, including the World Intellectual Property Organization, the International Telecommunication Union, the U.N. Conference on Trade and Development (UNCTAD) and the U.N. Educational, Scientific and Cultural Organization (UNESCO).