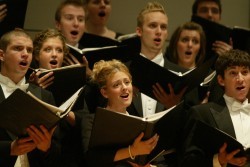 On Sunday, Oct. 10, Drake University's choral ensembles will perform "Seasons and Songs," a concert featuring an eclectic variety of music.
The recital, which is free and open to the public, will begin at 3 p.m. on the Jordan Stage in Sheslow Auditorium in Old Main, 2507 University Ave.
"It will be impossible for audience members not to find a piece that they love," said Aimee Beckmann-Collier, professor of conducting at Drake.
"This may be the most eclectic concert we've ever performed. Listeners will be fascinated by the range of sounds they'll hear in this concert, and we think that they'll find the contrasts in musical styles spell-binding."
Beckmann-Collier serves as director of the Drake Choir and Chamber Choir. Barbara Sletto, teaching artist, conducts the Drake Chorale, the University's select women's chorus.
The recital will include performances of well-known pieces by Bach and Palestrina, as well as lesser-known folksongs by composers from Lithuania and the Philippines. Throughout the concert, dancers, percussionists and a chamber orchestra will join the singers.