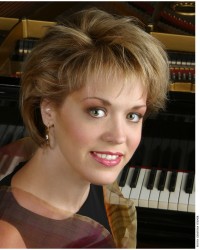 Olga Kern
Russian pianist and Yamaha artist Olga Kern, winner of the Gold Medal at the 2001 Van Cliburn International Piano Competition, will perform at Drake University on Monday, Oct. 11.
Kern will present Drake's 2010 Edwin Earle Ferguson Concert, which is co-sponsored by the Yamaha Corp. of America, at 8 p.m. on the Jordan Stage in Sheslow Auditorium in Old Main, 2507 University Ave.
She will perform on the world's only Yamaha CFX Grand Piano, which debuted earlier this year to rave reviews and praise for its revolutionary sonorous clarity and extensive tonal range. The handcrafted 9-foot instrument will be shipped to Drake especially for the performance.
"Drake University and Yamaha Corp. of America are very excited to present one of the world's most celebrated artists performing on the unique and magnificent Yamaha CFX Concert Grand," said Nicholas Roth, Drake associate professor of piano. "This promises to be a truly extraordinary and memorable concert in keeping with the well-established tradition of the Edwin Earle Ferguson Event series."
Kern's program will open with the Haydn Sonata No. 48 in C major, followed by the Schumann "Carnaval," Op. 9, the Rachmaninoff Sonata No. 2 and "Islamey (Oriental Fantasy)" by Mily Balakirev.
Kern has received glowing reviews in national publications, such as the New York Times, which described her as "an absolute whiz at the piano." The Washington Post reported that "This immensely talented artist turned in a performance that was dignified, controlled and almost majestic. . . her rubato was elegant and natural."
During the 2001 Van Cliburn Competition, Kern won the gold medal with her performance of the Rachmaninoff Piano Concerto No. 3, making her the first woman to achieve this distinction in more than 30 years.
Since then, she has performed at Carnegie Hall, the Great Hall of the Moscow Conservatory, Symphony Hall in Osaka and the Kennedy Center for the Performing Arts. She has also been a featured soloist with the Bolshoi Theater, Moscow Philharmonic Orchestra, St. Petersburg Symphony, Russian National Orchestra, China Symphony, Warsaw National Philharmonic Orchestra and Cape Town Symphony Orchestra.
Kern, who is under Columbia Artist Management, began studying piano at the Central Music School of Moscow at the age of 5. She pursued postgraduate work at the Moscow Conservatory, and was the recipient of an honorary scholarship from Russian President Boris Yeltsin.
Tickets for her Drake performance are $10 for adults and $5 for students, senior citizens and those with a Drake ID. They may be purchased from the Drake Fine Arts Box Office at 515-271-3841.
The performance and reasonably priced tickets are made possible by a gift from the late Edwin Earle Ferguson, who earned his bachelor's and law degrees from Drake while working as a pianist at Hotel Fort Des Moines, Younkers Tea Room and WHO Radio during the Great Depression. His love for music continued throughout his distinguished legal career, which included 17 years as deputy general counsel of the Atomic Energy Commission. He died in 1999 at the age of 88.
For more information about the concert, contact professor Roth at 515-271-2857 or nicholas.roth@drake.edu.