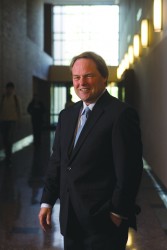 Neil Hamilton
Neil Hamilton, professor of law and the Dwight D. Opperman chair of law and director of the Agricultural Law Center, recently was featured in an article in DSM Magazine for his contribution to the field of sustainable agriculture.
Hamilton has been influential in leveling the playing field between small farmers and promoting the expanding opportunities for sustainable agriculture.
He received two major grants to advance his research. Hamilton received a multiyear award worth more than $150,000 from a USDA federal appropriation for the operation of the National Center for Agricultural Law Research and Information. He was also awarded a $15,000 grant from the Iowa Soybean Association to continue his research titled, "Producer Environmental Law Education and Training Online Resource."
The DSM Magazine article featuring Hamilton talks about the increasing prevalence of organic foods in grocery stores, farmers markets and the sales of natural food instead of processed foods. It also talks about the garden on the South Lawn of the White House that Michelle Obama and her daughters have planted.
Hamilton called this "the most powerful garden that's been planted in America since World War II." He also mentioned that our ability to take our food for granted is nice but we should be able to have a connection to it if we so desire.