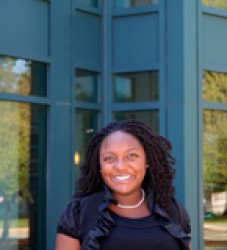 Shontavia Johnson
Assistant Professors of Law Shontavia Johnson and Jonathan Rosenbloom joined the Drake Law School faculty this August.
Johnson will teach property and intellectual property law while Rosenbloom will teach classes on property, sustainability and real estate transactions.
Johnson: a strong background in engineering
Johnson previously served as a faculty member at Loyola University College of Law in New Orleans. She has a background in engineering and holds a bachelor's degree in biosystems engineering from Clemson University in South Carolina. She attended law school at the University of Arkansas.
She worked as an attorney at Nelson Mullins Riley and Scarborough in South Carolina and spent some time in South Africa, where she did legal work and studied with a constitutional judge.
Johnson said she was attracted to Drake because of the people. She said, "Everyone was really friendly."
Though it is her first time living in the Midwest, Johnson said the transition to Drake has been a good one. She is hoping to get more involved in the Drake and Des Moines community. In South Carolina, she founded a mentoring program for elementary and middle school students and she hopes eventually to continue that work in Iowa.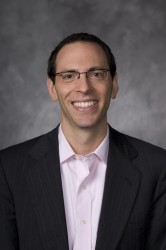 Jonathan Rosenbloom
Rosenbloom excited to focus on sustainability
Rosenbloom came to Drake from Stetson University College of Law in St. Petersburg, Fla. He holds a bachelor's degree in architecture from the Rhode Island School of Design, a law degree from New York Law School and an LL.M. focusing on environmental law, land use and economic development from Harvard Law School.
Prior to teaching, he worked at Reed Smith in Philadelphia, where he co-managed a real estate development division. He also founded a company that worked with state and local governments on issues of sustainability, including economic viability, social responsibility and environmental consciousness.
Rosenbloom said Iowa and the Des Moines area have many opportunities to get involved with issues pertaining to urban sustainability. He has already developed a new class for the spring, titled "Sustainability and its Applications," that will give students the opportunity to partner with local entities on actual initiatives.
He added that the ability to create such classes and teach other courses on sustainability drew him to the Drake law school.
"Here I will be teaching courses right up my alley, which is one of the main reasons I came to Drake," he said. "That and the fact that Professor Jerry Anderson lent me a coat on a particularly cold December day. It was another example of how super the faculty is."