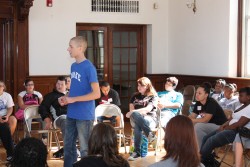 Drake sophomore Ryan Price, a founder of the "Bulldog for a Day" program, talks to Des Moines high school students on Oct. 7.
A group of students from Des Moines' North, East and Roosevelt high schools paired with students from Drake University on Thursday, Oct. 7, to learn more about life on a college campus.
Through Drake's "Bulldog for a Day" program, 30 high school sophomores, juniors and seniors attended a welcome from Vice Provost Wanda Everage and a simulated class experience before pairing up with undergraduate counterparts for two hours. Ryan Price, a Drake sophomore who helped form the program last year, said it is a "very powerful community-building process."
"We're seeing two important results from this program," said Price, a broadcast news and politics major from Apple Valley, Minn.
"Des Moines students are beginning their day not knowing Drake very well, and they end the day more familiar with the campus and our students. And, conversely, Drake students are starting the day not knowing their neighbors in Des Moines well and ending up with a connection to the city through these students."
Tiana Hawkins, a junior at Roosevelt High School, said she enjoyed a humanities seminar from Melisa Klimaszewski, one of Drake's "young and down-to-earth" professors, before visiting the Bell Center recreational facility and touring Dog Town.
Hawkins and her host, first-year Drake student Lauren Erickson, talked about sorority life and whether the Drake community would feel like a home away from home.
"I learned that Drake has classes that are not that big," she added. "You'll get that one-to-one experience with a professor, as compared to some of the larger schools where there are 900 students in one class."
The crux of the program — what made it stand out from a typical campus tour — was individual interaction between the students.
Price and his classmates launched the program last year with 12 students. This year, about 60 high school students will attend. The second group of 30 students is scheduled to participate Thursday, Nov. 18.
Price attributed the growth of the program this year to collaboration with Drake's Office of Admission and Des Moines Public Schools GEAR UP, a federal aid program that describes itself as "a national initiative whose mission is to significantly increase the number of students who are prepared to enter and succeed in postsecondary education."
"A lot of these students had visited Drake campus before, but the Bulldog for a Day program took the idea further," said Justin Villere, an Americorps Vista volunteer who works with GEAR UP. "Making a connection with college students is very valuable, so they can talk candidly about the college experience. Adults can talk for hours about what steps to take to apply, but sometimes it takes a student to pass along extra information."