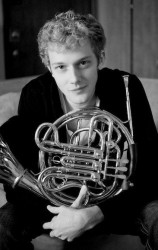 Drake junior music performance major Jason Oelmann will perform a French horn recital in conjunction with a photography and art exhibit on Sunday, Sept. 19.
The event, which is free and open to the public, will begin at 8 p.m. on the Jordan Stage in Sheslow Auditorium in Old Main, 2507 University Ave.
Titled "My Favorite Things," the concert will feature Oelmann's favorite pieces for French horn, including "Concerto Op. 8" by Franz Strauss and "Auf Dem Strom" by Franz Schubert.
"I'm looking forward to playing some of my favorite pieces," Oelmann said. "I selected them from repertoire I've been listening to and working on since high school, and I think they demonstrate some of the most beautiful literature written for the instrument."
Oelmann, of Altoona, Iowa, has been studying the French horn for half of his life — he began taking lessons in 2000 at the age of 10.
The concert will also feature the talents of other local musicians and Drake students and faculty members:

* Lisa Vroom of Des Moines, piano

* Anna Gebhardt, a junior music major from St. Paul, Neb., vocalist

* Derrick Hawks of Des Moines, trombone

* Ben Tilus of Des Moines, a Drake graduate, trumpet

* Josh Leinen of Des Moines, tuba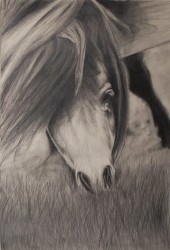 "Nikki," drawn by Oelmann, was showcased in a gallery during the 2010 Iowa State Fair.
Following the recital, a reception will be held featuring artwork
and photography created by Oelmann, who operates a freelance
photography studio in Des Moines.
"I've been a professional photographer since 2008, and I've gone on almost 100 photo shoots," Oelmann said.
His work, which has been featured and displayed at the Iowa State
Fair and the Central Iowa Metro League Art Show, can be viewed on his
web site at www.jasonoelmann.com.
"I enjoy portrait photography because I like to see the
personalities of my subjects and give them a positive memory upon their
graduation, wedding or engagement," Oelmann said. "I find it really
rewarding and, eventually, I hope to become a fashion photographer and
work for a major magazine.
"Both photography and music are highly competitive fields," he
said. "They're both my passions and I hope to make a career out of
both."