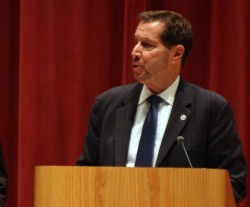 Drake President David Maxwell shares some of the University's accomplishments.
CONTACT: Aaron W. Jaco, 515-271-2179, aaron.jaco@drake.edu
Drake University President David Maxwell lauded many of the university's successes of the past year at the annual Fall Convocation, an awards ceremony for faculty and staff.
Maxwell noted that Drake:

Met its enrollment goals this year
Saw a nearly 7 percent increase in its six-year graduation rate
Notched higher-than-average student participation in internships, community and volunteer service and extra-curricular research projects
Improved its standing in the U.S. News and World Report rankings
Reached fundraising goals
Undertook major capital improvement projects, including a $5 million dining hall renovation and $1.5 million Fred and Patty Turner Jazz Center
Produced more student and faculty Fulbright Scholars than 525 of the 526 other master's universities in the United States during recent years.
"It's been a very good year to be Drake University," Maxwell said. "We had a lot to be proud of. The items that I've listed are only a small part of our collective achievements, and they are the consequence of the hard work, commitment and passion of all of you — faculty and staff, and of our students."
Maxwell balanced his celebratory remarks with an acknowledgement of the deaths of two students in unrelated off-campus incidents, and a reminder of the value of community.
"While each of the student deaths and other incidents had its own discrete circumstances, their cumulative impact on the campus community is significant and painful," Maxwell said. "I have been very impressed — and very gratified — by the ways in which members of the community have come together in these times of tragedy to support, console and comfort one another. That is a very special part of who we are, and it is a part that we must cherish and continue to enrich."

James W. Hubbell III, Donald V. Adams, President David Maxwell, David McCord, Diane Caldbeck and Trudi Holst gather for a photo after the award presentation.
True to the Fall Convocation tradition, university officials presented a
series of awards: the Madelyn M. Levitt Award for Community Service,
two Madelyn M. Levitt Employee Excellence Awards and two Drake Medal of
Service awards.
This year's recipient of the community service award was David McCord,
professor of law at Drake Law School. McCord is a founding organizer of
the Meals from the Heartland program at Drake, which attracts nearly
4,000 volunteers per year to package more than 4 million meals in five
days to deliver around the world.
"I recall that as a first-year law student in 1989, Professor McCord
observed that Law School and the practice of law has a tendency to
'extract your sympathies from you,'" said Human Resources Director
Venessa Macro. "I remember that phrase vividly and have tried to guard
against that. Clearly, Professor McCord has done the same."
McCord has taught night courses on U.S. citizenship for immigrants
seeking to pass the citizenship exam and created and taught a pre-GED
course for immigrants at Drake. He's served on the Board of Directors of
the Midwest Legal Immigrant Project, a nonprofit legal services
corporation, since its inception a decade ago. In recent years he's
worked closely with two Iraqi immigrant families, served as Mission Team
Leader for his church and oversees the work of Drake law students as
they provide pro bono legal services to the poor.
Maxwell presented Drake Medal of Service awards to Donald V. Adams,
longtime administrator at Drake, and James W. Hubbell III, member of the
Drake Board of Trustees and chair of Hubbell Realty Company in Des
Moines.
Known for introducing himself as "Bulldog," Adams, of West Des Moines,
is an iconic figure at Drake. His career began in 1969 as the college's
first and only vice president of student life. Since then he has worked
in several capacities, including executive assistant to the President.
More than 800 students have fulfilled the requirements of the Adams
Academy, a program run by the Donald V. Adams Leadership Institute. The
institute, formed in 2000, was named in Adams' honor and modeled after
Adams' personal leadership philosophy.
Hubbell III, of Des Moines, joined the Drake Board of Trustees in 1984
and was board chair from 2006 to 2009. Maxwell said Hubbell has
"markedly strengthened Drake's endowment, generating additional funds
for student financial aid and faculty and staff salaries."
"The distinguished Hubbell name invokes all the hallmarks of a generous
family deeply committed to the growth of the community," Maxwell said.
"The Hubbell legacy at Drake began in 1931, when Grover C. Hubbell
became the university's first head of the Board of Trustees, and
continues today."
This year's Employee Excellence awards went to Diane Caldbeck, associate
vice president for alumni and development, and Trudi Holst, academic
support specialist for experiential programs in the College of Pharmacy
and Health Sciences.
Caldbeck, of Des Moines, earned a bachelor's degree in education from
Drake in 1972. She joined the development staff in 1989 and built a
large relationship-based network of loyal and dedicated Drake
supporters. She's had notable success as a fundraising professional,
working strategically to match donors' interests with Drake's needs.
But perhaps more importantly, Calbeck goes out of her way to assist
others and maintain a warm, positive attitude. "She gives the mentoring
of others highest priority, spending significant energies with new staff
to ensure they have the benefit of her knowledge, experience and
relationships," Macro said.
Holst, of Johnston, earned a degree from Drake in 1995. She has worked
at Drake for 22 years. Representatives from the three departments for
which she has worked banded together to nominate Holst for the award.
Those included the Office of Admission, International Center and College
of Pharmacy and Health Sciences. The award honored Holst as an
accurate, innovative and service-oriented employee.
"Trudi Holst is the true embodiment of selflessness and service to
others," said Leslie Mamoorian, associate director of international and
graduate admission. "Helping others — whether they are international
students, students wishing to study abroad, pharmacy students, or anyone
else in the campus community and beyond — is instinctive and at her
core. She could not do otherwise."