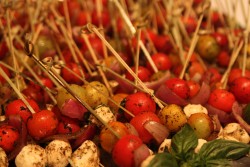 Guests enjoyed several small plates of food, including Caprese skewers with heirloom tomatoes, basil and mozarella.
People who grow, sell and eat locally grown foods came together last
Sunday to celebrate the 2010 growing season through preparing and
consuming dishes with everything from grass-fed beef to wine and fresh
produce.
Drake hosted the Harvest Party for more than 150 Buy Fresh Buy Local members and consumers who support the local food movement. Among the
Iowa growers who donated food were: Anna's Place Poultry, Cyd's Catering, Frisian Farms
Cheese, Grape Escape, Henrichsen Farms, Splash Sea Food Bar and Grill, Twin Girls Garden, Wirth
Farm.
The menu included six small plates from salad to dessert — all
featuring foods grown in the nine-county Greater Des Moines BFBL region.
There were Caprese skewers with heirloom tomatoes, basil and
mozzarella; local heritage apples and artisan cheese; vegetable gratin;
meatloaf; lamb; apple crisp and ice cream; and wine.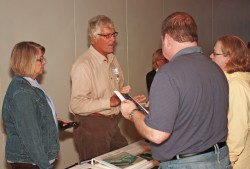 Ken and Jeanne Henrichsen visit with consumers about their operation in Winterset, Iowa.
New and longtime Buy Fresh Buy Local members were represented among the
farmers. Ken and Jeanne Henrichsen, who own Henrichsen Farms in
Winterset, Iowa, and are in their second year as BFBL members, donated
grass-fed beef for the meatloaf dish.
"Our animals are grass-fed and we don't use drugs, hormones or
antibiotics," Ken Henrichsen said. "Animals are healthier the way we
raise them, even though there is a longer growing time."
Tom Diltz, owner and winemaker with Rosey Acres in Runnells, Iowa, said
he's been with BFBL for three years and has been making wine for five
years.
"We produce about 1,000 cases a year," Diltz said. "We do it for fun and for the people who appreciate wine."
The party was sponsored by Drake and Iowa Heartland Resource
Conservation and Development as part of the Greater Des Moines Buy Fresh
Buy Local project.
For more information about Buy Fresh, Buy Local, contact Matt Russell at 515-689-8219 or bfbl@drake.edu.