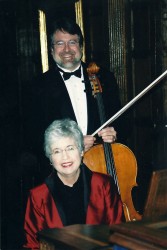 Drake University alumni mother and son duo Sue and Tom Hudson will perform a cello and piano recital on Saturday, Aug. 28.
The free, public concert will begin at 8 p.m. in Sheslow Auditorium in Old Main, 2507 University Ave.
The program will feature works by Franz Haydn, Robert Schumann, Johannes Brahms, James Hook, Claude Debussy and Samuel Barber. It will also feature guest bass player Jeff Jensen, a 1981 Drake graduate, on the Hook Sonata.
Sue Hudson, piano, who graduated from Drake University in 1960, manages a large piano studio in Des Moines. She has appeared as a chamber player and been involved in many teaching programs and workshops.
She also has taught piano pedagogy classes at Drake and was awarded the Outstanding Alumna Award from the Drake Department of Music in 1996.
Tom Hudson, cello, is a Des Moines native and 1983 Drake graduate. He was a student of John Ehrlich for 13 years and was the youngest member of the Des Moines Symphony at age 16. Following graduation from Drake, he studied in London for two years and returned to the United States to play in the New York Philharmonic, the Jacksonville Symphony and Spoleto Festival Orchestra.
He earned a Master of Music in Cello Performance from Juilliard School and plays in the Hartford and New Haven Symphonies in Connecticut.
For more information about the recital, contact Drake's Department of Music at 515-271-3975.