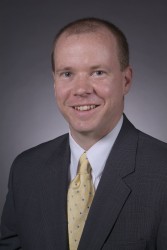 Kevin Saunders has been named director of academic assessment at Drake University. He previously served as coordinator of continuous academic program improvement in the Office of the Provost at Iowa State University.
As director of academic assessment at Drake, Saunders will join a collaborative team committed to using assessment as a means to improve academic programs and student learning.
He will coordinate development and implementation of assessment plans for institution-wide programs and will provide workshops and other support for use of assessment tools and leadership for ongoing assessment initiatives. In addition, Saunders will serve on campus committees that address assessment and program review.
The Assessment Office temporarily will be housed in room 103 of Carnegie Hall, and will relocate to the third floor of Old Main later in the fall.
Saunders has served as a research fellow for the National Center for Education Statistics and National Science Foundation Data Policy Institute, a resource faculty member for the Washington Center Learning Community National Summer Institute, and on the editorial board of the Journal of Learning Communities Research.
He has been honored with the Ebbers Dissertation Fellowship research excellence award, the 2004 Melvene D. Hardee Dissertation of the Year Award and the 2008 Iowa State University College of Human Sciences Outstanding Young Professional Alumni Award.
Saunders, who earned his bachelor's and master's degrees from Drake and his doctorate from Iowa State University, has been a member of the Association for the Study of Higher Education, the Association for Institutional Research, the American College Personnel Association, the Iowa Educational Research Association and the National Association of Student Personnel Administrators.
He has taught courses on student development, education statistics and assessment at Drake and Iowa State and his work has been published in numerous journals, including the Journal of College Student Development and Best Practices in Access and Retention in Higher Education.