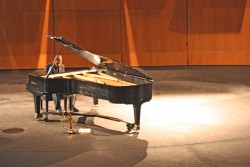 Matlou performs one of his own compositions at the Saturday event, which was held in Drake's Performing Arts Hall.
More than 30 Drake University students, alumni and community members turned out to celebrate the music and accomplishments of Witness Matlou, a jazz pianist and foreign exchange student from South Africa who was recently awarded a full-ride scholarship to Berklee College of Music in Boston.
Matlou, who spent a year at Drake and became an active member of the University's music community, performed several of his own compositions at the Saturday concert held in Drake's Performing Arts Hall. One of the pieces was inspired by his decision to attend Berklee, where he will study jazz composition, film scoring and music technology this fall.
Berklee, which is recognized as the world's premier college of contemporary music, accepted Matlou as part of its Africa Scholars Program. Matlou received the African Scholarship, which covers up to four years of study and provides recipients with a laptop.
"I have dreamt about Berklee since I was still in high school in South Africa," Matlou said. "Berklee has great teachers and it is such an honor to know that I have been chosen to follow in the footsteps of a long list of distinguished Berklee alumni, including great musicians, great artists and legends in the music industry and the entertainment world like Keith Jarret, Quincy Jones and Branford Marsalis. These are my icons."
In addition to solo piano performances, Matlou invited jazz musicians within the audience to join him onstage to perform. The improvisatory jam session served as a farewell and final opportunity for the musicians to play together before Matlou left for Boston the following day.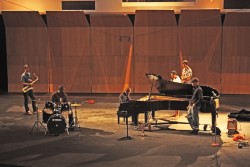 Matlou collaborated with current students, alumni and community members to perform a jazz standard.
Welcomed by Drake University and the Des Moines community
Prior to attending Drake, Matlou studied music at the University of KwaZulu-Natal in South Africa. After he decided to study abroad in the United States, where jazz music originates, he chose Drake after watching YouTube clips of the school's jazz band.
As a member of Drake's Jazz Ensemble One, Matlou traveled to Chicago and Europe. He also served as a pianist for one of the University's jazz combos and performed several independent recitals.
During his time at Drake, Matlou became an active musician within the Des Moines Community. He has served as a featured soloist with the Tony Valdez Salsa Band, the Mikiel Williams' Universal Electric Band, Sam Salomon, the Des Moines Community Big Band and the Gateway Dance Theater.
Matlou also formed his own jazz trio, which performed at the Des Moines Arts Festival, Temple B'nai Jeshurun and the Des Moines Public Library.
Matlou said he finds it difficult to leave Drake's music community and Des Moines.
"I will miss my friends on campus, my professors, basketball games, my friends in the Des Moines community and life and music in Des Moines. I will for sure come back to visit. Des Moines became my home, far away from home."