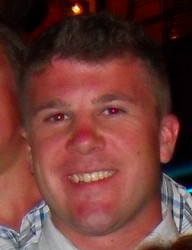 Christian Vandehaar
Drake education graduate student Christian Vandehaar and his chalk pastel art recently were featured today on KCCI's Artist's Studio. See the interview online at http://www.kcci.com/video/24726507/index.html.
Vandehaar, who grew up on a family farm near Altoona, Iowa, is pursing a Master of Art in Teaching and graduated with a Bachelor of Fine Arts from Iowa State University in 2009. This fall he will begin student teaching high school art.
He captures his passion in chalk pastel drawings that focus on farm life and religion.
"I say that farming built me and religion holds me up," he told KCCI Reporter Mollie Cooney. "There's always a tie to that in every piece that I do."
Vandehaar, whose art documents his family farm, was featured at the Des Moines Arts Festival this summer. He said he enjoyed seeing people's reactions to his work.
In the interview, he also talked about his concern for the future of family farms and his dedication to documenting the family farm in his art.
By using chalk pastels, Vandehaar says he feels closer to the farm because of the dryness of the medium and its earthlike nature.