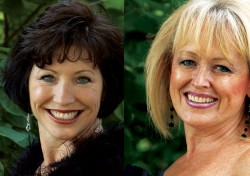 Leanne Freeman-Miller, associate professor of voice, and Michelle Havlik-Jergens, staff accompanist, will perform a recital on Friday, Aug. 27.
The free and open to the public concert will begin at 8 p.m. on the Jordan Stage in Sheslow Auditorium in Old Main, 2507 University Ave.
Repertoire will include selections from the duo's 2010 CD "Letters from the Garden: Contemporary Songs by Female Composers," which will be available for purchase following the concert.
Freeman-Miller, soprano, teaches studio voice, vocal pedagogy and vocal literature at Drake. She is the 2006 recipient of the Madelyn Levitt Teacher of the Year award — the University's highest honor.
Havlik-Jergens graduated from Drake in 1989 with a bachelor's degree in piano pedagogy. A two-time recipient of the Iowa Top Keyboard Artist Award, she has performed with the Des Moines Ballet, Palm Beach Symphonette and Poinciana Playhouse and serves as pianist for the Fort Dodge Choral Society.
For more information about the recital, contact Drake's Department of Music at 515-271-3975.