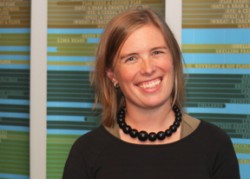 Hilary Williams, Visiting Assistant Professor of Graphic Design at Drake University, created a design exhibit highlighting the scale and consequences of our industrial food system.
Drake University presents a design exhibit illustrating the impact of
food production and distribution on fossil fuel consumption and global
climate change.
"A Fork in the Road: The Time and The Place for Local Foods," will
open with a free, public reception from 5 to 7 p.m. on Friday, Aug. 27.
The exhibit, which will run through Sept. 26, will be held in the
Anderson Gallery of the Harmon Fine Arts Center, 25th Street and
Carpenter Avenue.
Photos of the "A Fork in the Road" are available on Drake's Flickr site.
The Anderson Gallery is open from noon to 4 p.m., Tuesday through
Sunday. On Sunday, Sept. 19, the gallery will extend its hours to 8
p.m., following the Buy Fresh-Buy Local Harvest Party.
Hilary Williams, visiting
assistant professor of graphic design at Drake, created the project, and
her artwork is an integral element of the exhibit. She was inspired to
create the project while researching statistics about the relationship
between food, fossil fuels and global warming.
"I began to focus on the task of visualizing the invisible in our everyday eating habits," she said.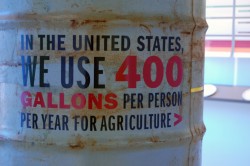 The exhibit merges graphic media with statistics related to fossil fuel consumption.
"A Fork in the Road" provides information on alternatives to the industrial food system, with an emphasis on local and regional foods as a solution to reduce global warming.
"My project seems to have become more timely as it has evolved," said Williams, who began the endeavor in 2008. "First the unprecedented global economic crisis and now the massive oil spill have revealed that the large-scale systems that we often take for granted are not necessarily stable or sustainable, and so it is increasingly apparent that we need to develop alternative systems."
The exhibit was shown at the UT Downtown Gallery in Knoxville, Tenn., where it received a 2010 How International Design Award for environmental graphics.
Recently, Williams created "Iowa Ingredients," a seasonal foods calendar that lists 120 locally grown and locally raised foods and when they are available. Copies of "Iowa Ingredients" are available at the exhibit.
"My hope is that if people become more aware of what is available and when it is available, then they might be more likely to choose local food options," Williams said. "We've become so accustomed to getting any food at any time of year from any place. By visualizing local seasonality, my hope is to revive a greater connection to the land."
A limited number of calendars will be available to the public at the exhibit.



For more information on the exhibit or to download a calendar, visit www.aforkintheroad.org or call 515-271-2863.
For more information on the Anderson Gallery, visit: http://artsci.drake.edu/andersongallery/.