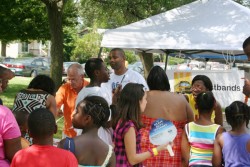 Students brave long lines and a heat wave to receive free packages of school supplies.
More than 500 Des Moines students from kindergarten through high school are going back to school with new supplies, thanks to the Fifth Annual Back 2 School Bash.
On Sunday, Aug. 22, first-year and returning Drake students, as
well as Drake alumni, helped staff the event, which took place from 2 to 5 p.m. at the John R. Grubb YMCA, 1611 11th St.
Local students received free school supplies and enjoyed a talent
show, basketball tournament, music from a disc jockey, a tour of a fire engine and a carnival
with field and inflatable games.
"The Back 2 School Bash is all about bridging the gap between
students and the community," said Deidre Howard, who helped establish
the event as a student at Drake. "Having a community celebration that
also provides practical tools to help our students go to school
prepared and focused is just one of the ways we can give them the
confidence they need to be successful. We understand that education
will help the students achieve their goals and we believe this event
will give them a head start."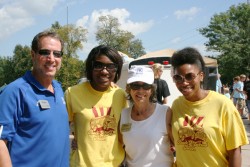 President David Maxwell, alumna Crystal Nance, Maddy Maxwell and junior Lauren Reed gather at the bash.
The bash was founded in 2005 by Howard and Drake graduate Shekinah
Young. Drake students Eric Hall, Ajibola Fajimolu, Lawrence Crawford
and Drake staff Latasha Stiger also served on the Back 2 School Bash Committee.
"It went very well and all of our goals were met," Young said
following the event. "Our school supplies were depleted by 3:30 p.m.,
which shows there was a high demand this year. There also were lots of
people visiting the booths featuring community organizations and we
were successful in attracting more older kids this year, especially for
the basketball tournament."
Sponsors of the event were ING, John R. Grubb YMCA,
Cornerstone Family Church, Coalition of Black Students of Drake
University, Drake University President David Maxwell, University of
Northern Iowa, Omega Psi Phi Fraternity Inc., Alliance of Black
Telecommunications Professionals, NAACP Youth Council, Papa John's and
Sodexo Catering Services.
Drake graduates Adwoa Kesse, Canesha Funderburke, Rob Johnson and
Crystal Nance and community members Hemie Collier, Marvin DeJear,
Rachelle Long, Ray Brown and Director of Campus Programming Terry
Nettles assisted with the organization of the event.