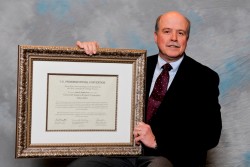 FOR IMMEDIATE RELEASE
August 19, 2010
CONTACT: Tory Olson, 515-271-1834, tory.olson@drake.edu
U.S. PHARMACY ORGANIZATION RECOGNIZES DRAKE ALUMNUS FOR LEADERSHIP
In recognition of leadership and outstanding contributions in advancing and protecting public health, James DeMuth, PH'70, was recently honored by the United States Pharmacopeia (USP) at an award ceremony held earlier this year
DeMuth, professor in extension services in pharmacy at the University of Wisconsin-Madison, accepted a USP Award on behalf of the USP General Experts Committee, on which he serves as chair.
The USP Award is presented every five years to the committee that exemplifies improving the quality and harmonization of organizational standards.
At the convention, DeMuth was elected chair of the USP General Chapters-Dosage Forms Expert Committee. He will serve a term of five years. Previously, he has served as chair of the General Chapters Expert Committee and chair of the Biostatistics Expert Committee.
DeMuth has authored over 35 research articles on pharmacy and adult education literature, and he has taught over 140 courses in the United States, Canada, Puerto Rico, Western Europe and the Middle East.
In 1993, DeMuth received the Rufus A. Lyman Award for most notable original research and scholarly work published in the "American Journal of Pharmaceutical Education." In 2000, he received the William A. Blockstein Award from the American Association of Colleges of Pharmacy for contributions to the field of continuing pharmaceutical education.