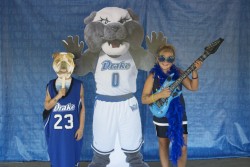 Spike poses with young Drake fans at the University's tent on Rock Island Avenue.
Drake Day at the Iowa State Fair on Saturday, Aug. 14, showcased many ways for alumni and
friends to "Capture Your Love for Drake."
Fair visitors participated in their very own photo shoots with
Drake props at the Drake University tent on Rock Island Avenue just east
of the Bill Riley Stage.
The Drake tent featured three different photo stations where
people interacted with Drake props and had their photos taken by
photographers. Photos have been be uploaded on the University's Facebook and Twitter pages.
Fans also met Bulldog athletes and got their autographs and took photos with Drake's mascot, Spike. Drake student-athletes and
coaches visited the tent at various times and signed free,
limited-edition sports posters. Porterhouse, the 2009 winner of the Beautiful Bulldog Contest and now Drake's official bulldog mascot, also posed for numerous photos.
In addition to Drake Day on Aug. 14, the University has a
display in the William C. Knapp Varied Industries Building throughout
the fair, which runs through Sunday, Aug. 22.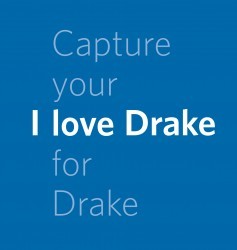 Drake sponsors photo contest at the State Fair

Fair-goers picked up Drake pennants to incorporate in their
own snapshots around the fair and have been invited to enter their pictures in Drake's
photo contest. The contest, which includes a panel of alumni judges,
features the following categories:
Best Food on a Stick
Most Creative
Something Blue
Favorite Fair Landmark
Photos should be submitted to love@drake.edu by Saturday, Aug. 21,
to be considered for the contest. Results will be posted on the Drake
University Facebook page by the end of August. By submitting a photo or
photos, the contest participant releases the photo or photos to Drake
University for use in any purpose.
Prizes will be given to six photos — one from each category, a Blue
Ribbon winner, and a "fan favorite" selected by fans of the Drake
University Facebook page. Category and Blue Ribbon prizes will be judged
by a group of Drake alumni and staff.