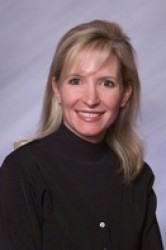 Melissa Heames Weresh, professor of law at Drake University, recently was elected
president-elect
for 2010-12 to the
Legal Writing Institute
, a national legal writing organization.
LWI has more than 2,100 members and promotes legal writing through various publications, workshops and conferences.
Weresh will serve as President Elect of LWI for two years, and will begin a two-year term as President in 2012. She has served on the LWI Board of Directors since 2008.
"This is a tremendous organization of dedicated, talented, and generous law professors," she said. "I am honored and humbled to serve on the Board of Directors, and look forward to seeing the organization continue to thrive in support of its members and on behalf of the academic discipline it represents."
She also received the 2009 Warren E. Burger Writing Competition Prize, which was presented at an awards ceremony in the chambers of the U.S. Supreme Court in Washington, D.C. Weresh received the award for her essay which examines the professional identity of novice lawyers.
Weresh, a resident of Clive, has written several books and many articles on legal writing, environmental law and ethics and professionalism. She has a textbook titled "Legal Writing: Ethical and Professional Considerations," which is published by LexisNexis and is currently in its second edition. She co-authored a book with Drake law professor Lisa Penland titled "Professionalism in the Real World: Lessons for the Effective Advocate," published by the National Institute for Trial Advocacy.
She also is a regular contributor to the Iowa Lawyer, focusing her writings on ethics, professionalism and communication in law practice. She has a forthcoming text, Iowa Legal Research, published by Carolina Academic Press, and co-authored with John Edwards, professor of law and associate dean for information resources, Sara Lowe, assistant professor of librarianship and reference librarian, and Karen Wallace, reference librarian and professor of librarianship.
Weresh serves on the Editorial Board of the Journal of the Association of Legal Writing Directors and is a Visiting Master with the C. Edwin Moore American Inn of Court. In 2010, she received the University of Iowa College of Law Alumni Service Award.
Before joining Drake in 1997, she was an associate with Buckingham, Doolittle and Burroughs in Akron, Ohio. There, she concentrated on environmental compliance and corporate transactional issues.