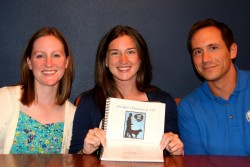 Left to right: Kathryn McDonald, Victoria Erxleben and Travis Gau. (Not pictured: Ryan Nimtz)
FOR IMMEDIATE RELEASE

July 22, 2010
CONTACT: Tory Olson, 515-271-1834, tory.olson@drake.edu
DRAKE PHARMACY STUDENT TEAM A FINALIST IN NATIONAL BUSINESS PLAN COMPETITION



A Drake University pharmacy student team was named one of three finalists in a national business plan competition in which students create a model for buying an existing independent community pharmacy or developing a new pharmacy.
The Drake plan was one of 35 entries in the Good Neighbor Pharmacy National Community Pharmacists Association's (NCPA) Pruitt-Schutte Student Business Plan Competition.
"The college has a strategic priority to enhance innovation, entrepreneurism and leadership in our students to prepare them for the future," said Raylene Rospond, dean of Drake's College of Pharmacy and Health Sciences. "This team and its accomplishments demonstrate the application of these skills in a team environment to achieve a common goal."
The three finalists — Drake, Auburn University Harrison School of Pharmacy and Washington State University College of Pharmacy — were announced at the American Association of Colleges of Pharmacy (AACP) annual meeting in Seattle July 9-13.

www.ncpafoundation.org www.ncpanet.org.
The finalists will present their plans in a live competition at the NCPA's 112th Annual Convention and Trade Exposition in Philadelphia on Oct. 23-27. Drake's team will present their business plan for Strider's Pharmacy, a compounding pharmacy with veterinary pharmacy services. The team members are:

• Victoria Erxleben of Arlington Heights, Ill.

• Travis Gau of Robbinsdale, Minn.

• Ryan Nimtz of Belvedere, Ill.

• Kathryn McDonald of Littleton, Colo.
"It was an inspiration to work with these students and is gratifying to see their efforts recognized through this achievement," said Renae Chesnut, associate professor of pharmacy practice and associate dean for academic and student affairs, who serves as faculty adviser for the Drake team.
"The students began working on their idea back in October and met weekly to develop their plan by the May 15 due date," she added. "There were also a number of other students who participated in the research and planning in addition to assistance from several practitioners, alumni, faculty and subject experts — it was truly a team effort."
Erxleben, Nimtz and McDonald were this year's winners of Drake's fourth annual Next Top Entrepreneur Competition, sponsored by the DELTA Rx Institute, which challenged students to use their creativity and innovation to solve health care-related problems.
In addition, Erxleben, Gau and McDonald completed DELTA Rx Institute summer entrepreneurial leadership internships a year ago, developed with support by McKesson Corp., National Association of Chain Drug Stores (NACDS) and Pharmacists Mutual.
The Drake team and Chesnut will receive a plaque commemorating their participation in the competition, along with complimentary registration, travel and lodging to NCPA's 112th Annual Convention and Trade Exposition in Philadelphia. The team will compete for first, second and third place in a live competition. After the presentations have been evaluated and scored, the following awards will be presented:
• First Place — $3,000 to the NCPA student chapter and $3,000 contributed to the school in the dean's name to promote independent pharmacy. The first place team, their faculty adviser and dean will also receive complimentary registration, travel, and lodging to the NCPA Multiple Location Conference.

• Second Place — $2,000 to the NCPA student chapter and $2,000 contributed to the school in the dean's name to promote independent pharmacy.

• Third Place — $1,000 to the NCPA student chapter and $1,000 contributed to the school in the dean's name to promote independent pharmacy.
The first national competition of its kind in the pharmacy profession, the contest is named to honor two great champions of independent community pharmacy, the late Neil Pruitt Sr. and the late H. Joseph Schutte.
"The future of independent community pharmacy resides in the hands of pharmacy students, which is why NCPA invests considerable resources in providing these young people with the tools to be successful owners," said Joseph H. Harmison, PD, NCPA president and pharmacy owner in Arlington, Texas.
"The Good Neighbor Pharmacy Pruitt-Schutte Student Business Plan Competition is the crown jewel of those efforts, as teams of pharmacy students create independent community pharmacy business plans that are judged by a distinguished panel of pharmacy professionals."