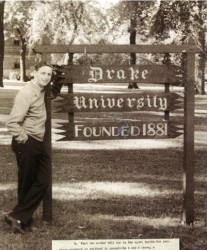 In this undated photo, David L. Wolper stands beside the Drake welcome sign.
Drake alumnus David L. Wolper, who produced the landmark 1977 television series "Roots," died Aug. 11 at the age of 82, according to the Associated Press.
Wolper, a Drake honorary doctorate recipient, studied liberal arts at the university for one year in 1949 before transferring to the University of California. He died at his home in Beverly Hills, Calif., of congestive heart disease and complications of Parkinson's disease.
While at Drake, Wolper signed his first business contract. Young writer John Pioster agreed to pay Wolper "a sum equal to ten percent of the gross amount received" in exchange for services as an agent.
Also while at Drake, Wolper saw a number of films at Des Moines' Varsity Theater, including the movie "My Reputation" starring Barbara Stanwyck. Stanwyck starred in Wolper's miniseries, "The Thorn Birds," 37 years later.
Wolper returned to Drake in 1986 to receive an honorary doctorate from then-President Michael Ferrari.
Wolper won an Emmy award in 1977 for his work on "Roots," an honor he
shared with co-producer Stan Margulies. Wolper and Margulies won another
Emmy in 1979 for the television show "Roots: The Next Generations."
A prolific producer, Wolper also produced the children's classic
"Willy Wonka and the Chocolate Factory" (1971), the John Wayne war film
"Bridge at Remagen" (1969) and the 1997 neo-noir film "L.A.
Confidential," among others.
Wolper was best known for his accomplishments on television,
including his work on "Roots." Read the entire Associated Press story here.