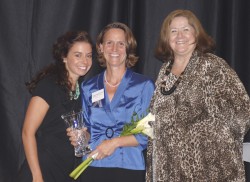 Hatfield Clubb, center, at the awards ceremony held in downtown Des Moines.
The Des Moines Business Record recently recognized Drake Athletics Director Sandy Hatfield Clubb as one of the newspaper's 2010 Women of Influence at an awards reception held in downtown Des Moines.
For the past 11 years, the Business Record has honored women who have made outstanding contributions to the community in a variety of areas with the Women of Influence Awards.
Hatfield Clubb, who has served as athletics director at Drake since 2006, was profiled in the Aug. 2 issue of the Business Record. She was recognized as an active member of the National Association of Collegiate Women Athletic Administrators, which strives to enhance college athletics and to promote the growth, leadership and success of women as athletics administrators, professional staff, coaches and student-athletes.
"Four years ago, I received the fourth greatest blessing in my life — joining the Drake family," Hatfield Clubb said. "I have the privilege of working under the extraordinary leadership of Dr. David Maxwell, and I work with the unbelievable coaches and staff at Drake. The Des Moines community has inspired my family and me to give in ways we didn't know were possible."
While accepting the award, Hatfield Clubb said that she was humbled and honored to be recognized.
"I don't feel qualified to stand here with the unbelievable women I've seen honored over the last four years," she said.
Hatfield Clubb is a member of the NCAA Men's Basketball Issues Committee and the WBCA Committee on Basketball Issues. Actively involved in the Des Moines community, she serves on the Board of Directors for Meals from the Heartland, The United Way, Character Counts in Iowa and the Iowa Sports Foundation.
Last May, Hatfield Clubb and Drake women's basketball coach Amy Stephens were part of a small group of Iowans, representing Meals form the Heartland, who spent six days on a goodwill trip to earthquake-ravaged Haiti. They conducted a girl's basketball camp for sixth graders, presenting the kids with shoes, clothing and basketballs.
"We're now looking for other college and universities to do the same for other schools so that Haiti can form a girl's basketball league," said Hatfield Clubb. "The ultimate goal is to inspire these young girls to improve their lives and build their confidence through sports so that they can in turn help their country."