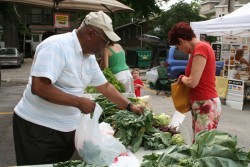 Representatives from
Emeritus at Urbandale
, a care facility for people with Alzheimer's disease, will visit the Drake Neighborhood Farmers' Market on Wednesday, Aug. 11.
The health care professionals will discuss memory issues and give a presentation titled "Join their Journey," which focuses on creating a nurturing environment for people with Alzheimer's or other memory disorders.
The market is open from 4 to 7 p.m. every Wednesday through Sept. 29 in the parking lot of First Christian Church, 2500 University Ave. Free parking is available for shoppers across from the market on the east side of 25th Street.
A health tent, where shoppers can have their blood pressure and blood sugar levels measured for free, is available every week.
The market is a nonprofit, community project sponsored by First Christian Church, the Drake Neighborhood Association and Drake University.
For more information, call Ginny Gieseke at 515-277-6951 or visit the Web site at www.drakefarmersmarket.com.