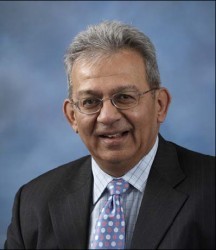 Suku Radia
The Des Moines Business Record named one of Drake's trustees the best business leader in the Des Moines metro area.
Suku Radia, president and chief executive officer of Bankers Trust Co., joined the Drake University Board of Trustees in June 2008. His peers in the Des Moines area voted him the Best Metro Business Leader and Best Minority Business Leader early this month.
The Des Moines Business Record announced half of the winners of its 2010 Best of Des Moines contest, including Radia, in the publication's Aug. 9 issue. The second half will be announced next week.
* *
Suku Radia

President and CEO, Bankers Trust Co.
Drake trustee since (month/year): June 2008

"¨Favorite spot on campus: Cowles Library ("I love the serenity of libraries.")

"¨Why I love Drake: "Drake is OUR university. Des Moines is proud of Drake and it is a great place for learning and has much to offer culturally. We cannot have a vibrant community without a first-rate university. Drake is very instrumental in the success of Central Iowa and in its image across the country."

"¨Notable contributions to Drake: "My wife (Mary Radia, a Drake pharmacy graduate) served on the Board of Trustees for 10 years, we contribute generously to Drake, I was the convocation speaker at the May 2009 graduate commencement ceremony and I emceed "˜Paint the Town Blue' in January for the alumni — an event attended by over 300. I am VERY proud of my affiliation with Drake."

"¨Languages spoken: Urdu, Hindi, Gujarati, French. (Sarcastically: "And I dabble in English.")
*
Radia is known in the business world for his sense of humor. He made state headlines in July when a friend, Des Moines lawyer Steve Zumbach, played a practical joke on him and the bank's chief financial officer. (The pair were served with fictitious legal papers, made to wear jail jumpsuits and placed in handcuffs.)
But Radia is also deeply respected for his effectiveness as a leader.
"Suku's fingerprints are all over Greater Des Moines," Martha Willits, president and CEO of the Greater Des Moines Partnership, told the Business Record. "He's had a hand in most every major initiative the Partnership has led over the past decade, and dozens more at organizations and businesses across the region. His strategic thinking, his ability to raise capital and his talent for mentoring our future leaders have made Suku the go-to guy in this town."
Radia is of Indian descent and was raised in Uganda. Earlier this year, One Iowa, an advocacy group representing Iowa's lesbian, gay, bisexual and transgender (LGBT) community, honored Radia with its 2010 LGBT Business Leader Award in recognition of his leadership and commitment to equality in the workplace, according to the Business Record.
Before joining Bankers Trust, Radia was CFO of Meredith Corp. for eight years and worked for 25 years at KPMG, a professional services firm. He is a graduate of Iowa State University. He also is a member of Mercy Medical Center's Board of Directors. Radia has received Iowa State's Distinguished Alumni Award and United Way's Tocqueville Award.