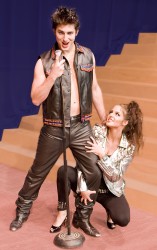 Former Drake student Nick Toussaint plays the Pharaoh and junior Alex Beem plays Mrs. Potiphar.
Nine Drake University students are performing in the Des Moines Community Playhouse production of "Joseph and the Technicolor Dreamcoat", which opened July 16 and runs through Sunday, Aug. 8.
The saga of Joseph and his coat of many colors comes to vibrant life in the musical parable "Joseph and the Amazing Technicolor Dreamcoat," written by Tim Rice and Andrew Lloyd Weber. The show uses a mix of musical styles from country-western and calypso to bubble-gum pop and rock 'n' roll.
The play features Drake senior Sarah Hoch as the narrator and the lead female role in the performance and former Drake student Nick Toussaint as the Pharaoh and Ruben.
Directed by Karla Kash, assistant professor of theatre arts at Drake, the production features a cast of nearly 50. The music director and conductor of the play is Brenton Brown, a 1999 Drake graduate.
The production received a glowing review in the Des Moines Register.
The review notes that "This is the fifth time the Playhouse has pulled "Joseph and the
Amazing Technicolor Dreamcoat" out of its closet — after productions in
2003, 1998, 1994 and 1984 — and it has held up remarkably well, thanks
to fresh direction and choreography by Karla Kash, an admirable turn in
the title role by Eric Shepard (in his Playhouse debut), and an
energized mob of children and young adults who fill out the rest of the
nearly 50-member cast."
The Drake students who are cast members are listed below:

Sarah Bannon, junior, plays a wife
Alex Beem, junior, plays Mrs. Potiphar and is the female dance captain
Ryan Bower, first-year student, plays Benjamin
Mary Craven, sophomore, plays a wife
Noby Edwards, junior, plays a wife
Sarah Hoch, senior, narrator
Madeline Judge, sophomore, plays a wife
Lauren Knutson, junior, plays a wife
Jim Kolnik, senior, plays Simeon and is the male dance captain
Performances start at 7:30 p.m. Wednesday through Saturday and 2 p.m. Sunday through Aug. 8. Tickets may be purchased at the Playhouse Ticket Office, 831 42nd St., by phone at 515-277-6261 and online at www.dmplayhouse.com.
For more information about The Playhouse and "Joseph and the Amazing Technicolor Dreamcoat" contact the Playhouse ticket office at 515-277-6261.