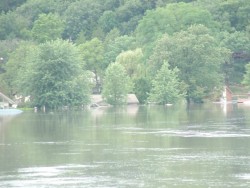 Flood waters filled houses and cabins within the space of a few hours.
When sudden floodwaters broke through the 92-year-old
dam in Delhi, Iowa, last weekend, the town's nine-mile-long lake
drained away in less than a day, damaging cabins and lakefront property
values in a community known as an idyllic summer retreat.
For Drake student Debra Brokaw, who plans to graduate in August with
a master's degree in rehabilitation counseling, the damage hit close to
home.
"The water started rising on Friday night and by Saturday my
in-laws' cabin on Lake Delhi was under seven and a half feet of water,"
said Brokaw, of Monticello, Iowa. "They've owned the cabin since 1967
and just about everything was lost."
Brokaw described the clean-up process as an exhaustive ordeal
tempered by the presence of neighbors and friends who have volunteered
to help.
"After the dam broke, the water went down very quickly, so we spent
Sunday gutting the cabin, getting out all of the carpet and drywall,"
Brokaw said. "We had about 20 people show up at the cabin to help, some
relatives and some friends — the community support and the time and
effort other people have put in to helping has been amazing and
overwhelming."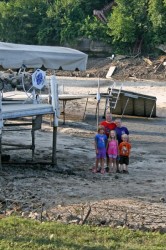 Brokaw's children stand in what was once Lake Delhi.
Brokaw's friend and fellow Drake graduate student Jenny Jesenovec pitched in with the clean-up effort.
"It's been amazing the way we've pulled together as a community,"
said Jesenovec, a resident of nearby Hopkinton who expects to complete
her rehabilitation counseling master's degree in August.
"You don't see
anyone feeling sorry for themselves — we have to do what we have to do
to move on and clean up. Everyone's helping out their neighbors as much
as they can. You may not know someone firsthand, but you're willing to
help them out because this is your community."
She added that the loss of the lake has been difficult, especially at the height of the vacation season.
"It's sad that there's no lake anymore," Jesenovec said. "Lake
Delhi is a nice place to enjoy the summer, and it's sad to see that
it's gone."