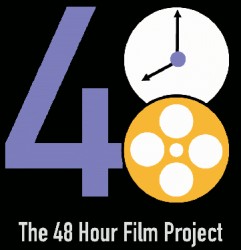 The cinematic work of Drake University alumni and students will be featured at the
2010 Des Moines 48 Hour Film Festival
, a two-night event of screenings and celebration.
Films were first shown on Wednesday and will continue at 7 p.m. and 9:30 p.m. Thursday, July 29. The festival is hosted by the Fleur Cinema & Café, 4545 Fleur Drive.
With a mission to advance filmmaking and promote filmmakers, the 48 Hour Film Project puts the focus on creativity and teamwork — invaluable skills when writing, shooting, editing and scoring a film.
The films were created in Des Moines from Friday, July 23, through Sunday, July 25, with more than 40 teams participating in the contest.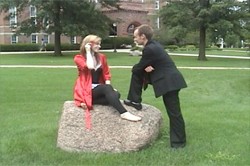 Williams romances Lawler in a scene from "Take a Number."
Film directed by Drake student presents romantic side of the DMV
Forrest Williams, a junior theatre-directing major from Ames, Iowa, directed and produced a romantic film titled "Take a Number."
The film tells the story of a plumber, played by Williams, who visits the Department of Motor Vehicles to renew his license. While there, he attempts to muster up the courage to speak to a beautiful young woman while observant DMV employees place bets on his chances with her.
Viewers familiar with Drake's campus will recognize the University's grounds and Old Main, as well as Cowles Library, which served as a stand-in for the DMV waiting room.
Williams learned about the festival from Drake Assistant Professor of Theatre Arts Karla Kash.
"I've always liked movies and wanted to shoot one, so I decided to enter the festival," Williams said. "This was definitely a valuable experience and I want to do it again next year. I'd like to continue writing scripts, shooting films and taking my movies to festivals. I also plan on entering 'Take a Number' in other film contests."
Williams served as leader of the Drake Ghetto Productions team, which featured the talents of other Drake students:

* Carrie Gabbert, a junior musical theatre major from Burlington, Wisc.; actress

* Stella Hart, a junior English and music major from Cedar Rapids, Iowa, who served as music supervisor

* Cait Hicok, a senior biology major from Conifer, Colo.; actress

* Kelly Lawler, a junior English major and theatre minor from Des Moines, Iowa; screenwriter and actress
Gabbert, who has acted in theater productions at Drake, said that the experience provided her with a chance to perform in a different medium, and that the strict time constraints contributed to the bonding of the group.
"The project focuses on teamwork and cooperation," Gabbert said. "The team can see just how much they can accomplish in a mere 48 hours from initial discussion to final project — it's a unique, fun experience."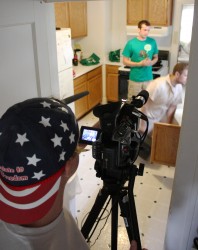 Rapp shoots a scene starring Barlow and Haymes.
Alumni and students collaborate on all facets of film production



Alumnus Tom Rapp of Glenview, Ill., directed and produced a film about infidelity titled "Loose Pipes," which includes a scene shot in the parking lot of Drake's Jewett Residence Hall.
"Loose Pipes" is a dark comedy that centers on the complex relationship between a man and his wife's lover.
"This was a unique experience in working under a tight deadline and collaborating with others to get a movie done so quickly," said Rapp, who graduated from Drake in May 2010 with a journalism degree.
Rapp led the Talkie Pictures team, which featured:

* Joe Barlow, a 2010 graduate from Lindenhurst, Ill.; actor, music composer and supervisor

* Dan Haymes, a 2010 graduate from Berwyn, Ill.; actor

* Lauren Mease, a senior journalism major from Clive, Iowa; actress
"The experience is unlike any other," Haymes said. "The two-day deadline pushes you to work quickly and efficiently, but you also have a great time. You definitely learn your limits, and you learn to work in an incredibly fast-paced environment."
"We were such a small team that we all had to do everything," Barlow said. "We wrote the script together, we all acted, we edited — all of us participated in every part of the filmmaking process. That was the best part."
Barlow said that the team is proud of the movie and looking forward to the festival. "It'll be fun to see the audience reactions," he added. "We're hoping for gasps."