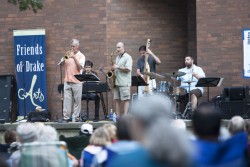 The hot, muggy weather cleared up just in time for almost 200 jazz fans to enjoy an outdoor evening concert performed Wednesday by the Drake Faculty Jazz Quintet.
Presented as part of the Des Moines Metro Arts Jazz in July series, the event also featured visual artists, food and wine vendors and arts and crafts activities in Drake's Harmon Fine Arts Center courtyard. Photo galleries of the event can be viewed on Drake's Web site here, and on Flickr here.
The Drake Faculty Jazz Quintet consists of:

* Dave Altemeier, teaching artist of jazz bass

* Andy Classen, the Fred and Patty Turner professor of jazz studies and professor of trumpet

* John Kizilarmut, teaching artist of jazz drums

* Nick Leo, teaching artist of jazz piano

* James Romain, associate professor of saxophone and assistant director of jazz studies
The ensemble performed a set comprised of mostly original tunes composed by band members, including Alteimer's compositions "Going Tharn" and "Goat's Milk?" and Kizilarmut's "Blues for C.T."
In addition to the originals, the band performed renditions of Cedar Walton's "Bolivia" and Sonny Stitt's "The Eternal Triangle."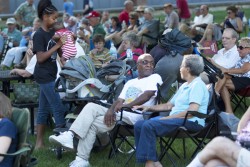 Audience members enjoy live music within a community atmosphere.
"It was a lovely evening," Romain said. "It was actually the first time
all five of us have performed together as a group. Jazz in July crowds
are great to play for because they're savvy about the music — they're
an educated and appreciative audience."
"I had a great time," said concertgoer Roland Hart of Cedar Rapids,
Iowa. "It was a perfect evening for a concert outside, and the band
sounded great. It was nice to see such a large crowd out on a Wednesday
night supporting live music and local jazz artists."
In addition to the jazz program, the Gateway Dance Theatre
performed a folk dance from Northern India and an African-inspired
contemporary dance to live percussion accompaniment.
"It was a perfect evening — the weather worked in our favor, and
the courtyard made a beautiful setting for the performance," said Penny
Furgerson, who directs the dance company. "The crowd was very receptive
and the dancers enjoyed performing immensely. Afterwards, people came
up to us and wanted to learn about upcoming performances — they must
have enjoyed what we did!"
"I thought the whole event was well-done," said Laura Porter of
Monticello, Iowa. "The concert was very entertaining and the musicians
and dancers obviously have a lot of talent."
Jazz in July at Drake was presented by Friends of Drake Arts in
conjunction with the Drake Business Association, the Drake Alumni
Association, the Drake Neighborhood Association and the Drake
Neighborhood Farmers' Market.