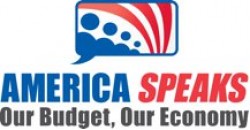 Des Moines has been selected as one of only 18 sites for an unprecedented national discussion on the national debt. A diverse group of local citizens will come together Saturday, June 26, at Drake University, linked online with the 18 other sites across the country to learn about the issues involved, weigh the options and develop recommendations for leaders in Washington.
Drake University is serving as a partner and host for the town hall meeting, which will take place from 10:30 a.m. to 5 p.m. June 26 in Levitt Hall in Old Main, 2507 University Ave.
"We are delighted to host this event at Drake as a powerful manifestation of our commitment to serve as the place where the community comes together to discuss the pressing issues of the day," Drake President David Maxwell said. "This event is especially important because it enables local residents to participate in a national discussion that will produce recommendations that will be forwarded to our leaders in Washington for consideration."
In addition to Drake, the Child and Family Policy Center and the State Public Policy Group are among other local organizations committed to work to ensure that Des Moines citizens will be well represented in the national discussion.
"The Child and Family Policy Center is excited to be a partner in this national town meeting on the federal budget. We look forward to hearing suggestions from the public on the current fiscal situation as we try to determine the best way to strengthen our nation's budget while ensuring our citizens the services they need," said Sheila Hansen, Child and Family Policy Center policy director.
Des Moines residents, reflecting the demographic, geographic and political diversity of the area, will come together to weigh in on the difficult choices necessary to put our federal budget on a sustainable path.
On June 26, the public will be presented with a set of options that are designed to represent a range of approaches before policy makers. Participants will use keypad polling and groupware technology to identify views that transcend geography, demographics or politics. AmericaSpeaks will present the priorities that emerge from the National Town Meeting to President Barack Obama and Congress.
Des Moines was selected as one of 18 communities across the country that was chosen to host a National Town Meeting site, each of which will be linked together by satellite and the Internet for the national discussion. Participants at the town meeting sites will be joined by smaller conversation sites organized by volunteers in other communities across the country.
More information can be found on the online hub for "Our Budget, Our Economy," including videos, reports on the budget and economy, blog posts and more. The site also provides a platform to share ideas at the national and local levels through links to Facebook, Twitter, MySpace and LinkedIn.
"The United States is on an unsustainable path and the fiscal challenges facing our nation stand out as issues that will require compromise from the left and right in order to address the scale of the problems we face," said Carolyn Lukensmeyer, founder and president of AmericaSpeaks. "Des Moines' participation represents an unprecedented opportunity for residents to get involved in the larger national discussion to start finding agreement about steps to redefine our fiscal future."
This unique national discussion is a project of the nonprofit organization AmericaSpeaks and is supported by three leading foundations with a shared commitment to informing the American public and policymakers of the fiscal realities facing the country. It is being made possible by generous contributions from the Peter G. Peterson Foundation, John D. and Catherine T. MacArthur Foundation and the W.K. Kellogg Foundation.