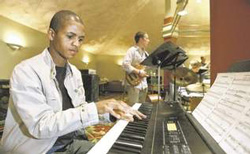 Witness Matlou at an earlier performance photographed by the Des Moines Register.
The Witness Matlou Jazz Trio, featuring Drake student Witness Matlou and Teaching Artist of Jazz Bass Dave Altemeier, will perform at the Des Moines Arts Festival on Saturday, June 26.
The event, which is free and open to the public, will begin at 10 a.m. on the Jazz and Wine Pavilion, 700 Locust St., downtown Des Moines.
Matlou, who leads the group, is an international student from South Africa. Read more about his experiences studying at Drake and performing jazz in Des Moines here.
The trio consists of Matlou on piano, Altemeier on bass and local drummer George Bishop. Saxophonist Mikiel Williams will also perform with the band.
Drake alumni and friends are volunteering at the Des Moines Arts Festival again this year. They are selling drinks at four beverage tents throughout the festival, which runs from June 25-27 in the Western Gateway in downtown Des Moines.
Volunteers are visiting and
networking with alumni and festival-goers, enhancing the art festival
and supporting the Central Iowa Drake Alumni Chapter.
Proceeds from the beverage sales will go toward the chapter's operations and programs.
For more information on the Des Moines Arts Festival, including a schedule of events and musical performances, visit: www.desmoinesartsfestival.org.