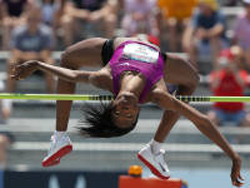 Chaunte Lowe clears the bar at 6 feet 8 3/4 inches, setting an American record in the high jump.
Two American records, seven world-leading performances this season and 17 Drake Stadium marks were set during the 2010 USA Outdoor Track and Field Championships hosted by Drake June 24-27.
The results impressed Doug Logan, CEO of USA Track and Field, and Des Moines Register columnist Sean Keeler, who wrote a June 27 column headlined "Drake a 'cathedral' for track and field."
In that column, Keeler quoted Logan as saying, "The fact is, we've got some of what I call 'cathedrals' for this sport, some intimate places with some history and some character. This is one of them."
Read more about the championships and view photo galleries on the Register website.
The four-day attendance of 32,048 broke the previous four-day USATF total of 31,000 set in Eugene, Ore., last year.
Two American records set

Women's Javelin – 66.67m, 218-9, Kara Patterson, Asics (on last attempt) (old mark -64.19m/210-7, Kim Kreiner, Nike, Fortaleza, Brazil, May 16, 2007)
Women's high jump – 2.05m, 6-8.75, Chaunte Lowe, Nike (old mark 2.04/6-8.25, Chaunte' Lowe, Cottbus, Germany, May 30, 2010)
Seven world-leading marks achieved
On Saturday, June 26, five world-leading performances took place in front of a crowd totaling 9,024. They were:

Women's 400 – 49.64, Debbie Dunn, Nike
Women's High Jump – 2.05 (6-8.75), Chaunte' Lowe, Nike
Heptathlon – 6,735 points, Hyleas Fountain
Men's 400 Hurdles – 47.32, Bershawn Jackson
Men's 400 – 44.61, Greg Nixon, Asics
On Sunday, June 27, a crowd totaling 7,437 watched two world-leading performances:

Men's 110 hurdles – 12.93, David Oliver, Nike
Women's Pole Vault – 4.89 (16-0.5), Jenn Suhr, Nike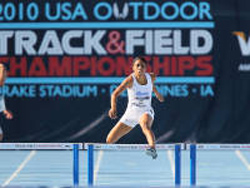 Ari Curtis couldn't recover from clipping the first hurdle in a preliminary heat of qualifying rounds.
Drake student's season ends at USA Championships



Drake junior Ari Curtis (Fort Collins, Colo.) was clocked in 59.10
seconds in her preliminary heat of qualifying rounds in the women's 400
hurdles of the USA Track and Field Championships Friday, missing an
opportunity to advance into the semifinal round.
Running in lane four, Curtis clipped the first hurdle and could never recover.
"I was really excited to run here," said Curtis, the only Drake
student competing in the four-day meet. "Seeing the other girls' times
coming up in the first heats, I thought 'Oh, I can do that, I can
easily get in', and then I hit the first hurdle and it all went
downhill from there.
"That was probably the first hurting point of the race, it just
messed me up. The rest of the race, I mean, I've been kind of sick and
it's different trying to work and train. It just wasn't the ideal
situation for me, but at the same time, I just didn't run my race."
Nevertheless, Curtis will look to take advantage of the opportunity
to compete in the U.S. National Championships,continuing her
development in the future.
"I am definitely going to take a break for a while, then I will get
back into it, to show that this is something I am really serious about
and will continue to be serious about in the future.
"I'll have more chances to not do so poorly in front of my home
crowd. Relays (Drake), then NCAA's next season, so I look forward to
those. I'm going to chalk this up to experience and keep it moving to
next year."



As expected, many Drake Stadium records set
Before the meet, competition co-director Mark Kostek said he was
expecting as many as 10 to 15 stadium records. The total of 17 exceeded
his prediction and equaled the number of stadium records set the last
time Drake hosted a national championship meet — the 2008 NCAA Outdoor
Championships.
Since the renovation of Drake Stadium was completed in 2006, 42 Drake Stadium records have been set.
The stadium records produced during the four-day USA Outdoor Track and Field Championships are listed below:


Thursday, June 24

Women's Triple Jump – 46-5.25, Erica McLain, Nike on her last attempt (old mark – 45-3, Shani Marks, Minnesota, 2003)
Women's 10,000 – 32:06.45, Amy Begley (old mark – 32:44.95, Lisa Koll, Iowa State, 2008). Koll finished second in 32:11.72.
Friday, June 25
Women's Javelin – 66.67m, 218-9, Kara Patterson, Asics (on last attempt) (old mark – 61.80m, 202-9 at 2010 Drake Relays).
Women's 800 -1:59.43, Alysia Johnson, Nike (old mark – 2:01.68, Suzy Favor Hamilton, Nike, 1998).
Men's
Hammer Throw – 76.51m, 251-0, Jake Freeman, New York Athletic Club on
second throw (old mark – 74.13m, 243-2, Cory Martin, Auburn, 2008).
Men's 800 – 1:45.23, Duane Solomon, Saucony, (old mark -1:45.31, Jacob Hernandez, Texas, 2008).
Men's Triple Jump – 17.02m (55-10.25), Kenta Bell (old mark – 16.84m, (55-3.25), Paul Emordi, Texas Southern 1985).
Saturday, June 25

Decathlon – 8,215 points Jake Arnold, Asics (old mark – 8,198, Kip Janvrin Visa/Nike, 1996)
Men's 400 Hurdles – 47.32, Bershawn Jackson, Nike, (old mark – 48.28, Danny Harris, Iowa State, 1986)
Women's High Jump – 2.05 (6-8.75, Chaunte Lowe, Nike (old mark 1.96/6-5, Chaunte' Lowe, Nike, April 30, 2010)
Women's 400 – 49.64, Debbie Dunn, Nike (old mark – 50.64, Lillie Leatherwood-King, Alabama, 1987)
Heptathlon – 6,735 points Hyleas Fountain, Nike (old mark, 6,053, Jacquelyn Johnson, Arizona State, 2009)
Sunday, June 26

Men's 3,000 Steeplechase – 8:27.87, Danile Huling, Reebok (old mark 8:28.26, Kyle Alcorn, Arizona State, 2008)
Women's Pole Vault – 4.89m/16-0.5, Jenn Suhr, Nike, (old mark 4.62/15-1.75, Stacy Dragila, Nike, 2003).
Men's Long Jump – 8.37m (27-5.50), Dwight Phillips, Nike (old mark – 8.30/27-2.75, Ngonidzashe Makusha, Florida State, 2008)
Men's 110 Hurdles — 12.93, David Oliver, Nike (old mark – 13.21, Ryan Wilson, 2009)