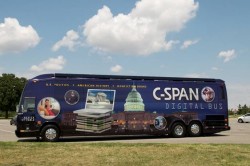 The newly launched C-SPAN Digital Bus will stop in Des Moines on June 23 to ensure that central Iowans are among the first in the country to climb aboard for a high-tech multimedia experience.
Des Moines is the second city on the inaugural tour for the C-SPAN Digital Bus and it will be in the Drake Neighborhood Farmers' Market, 4 p.m. to 7 p.m. following a stop in the East Village from 11 a.m. to 1 p.m.
The market is open from 4 to 7 p.m. every Wednesday through Sept. 29 in the parking lot of First Christian Church, 2500 University Ave. Free parking is available for shoppers across from the market on the east side of 25th Street.
Bus will showcase interactive digital technology, access to C-SPAN archives



The 45-foot customized bus is loaded with interactive digital technology to engage visitors in public affairs content that can be viewed or accessed in multiple high-tech platforms.
The centerpiece of the hands-on tour will be a collection of computer kiosks that viewers can use to search the more than 160,000 hours of footage that make up the new C-SPAN Video Library. Covering 23 years of history and five presidential administrations, the archive launched in March and includes robust search capabilities to find every White House briefing, Congressional session, political statement or smear dating back to 1987.


Drake Farmers' Market features local produce and community activities
More than 20 vendors will have Iowa-grown produce, baked goods, snacks, meals, sandwiches and crafts for sale. The market will feature a variety of activities, including:
• A Children's Book Party — children will be provided with free books in order to encourage summer reading

• Face painting

• Lemonade, provided by Anderson Erickson Dairy
In addition, representatives of the Child Abuse Prevention Council will present information about various programs, including free parent education classes.
A health tent, where shoppers can have their blood pressure and blood sugar levels measured for free, is available every week.
Some vendors have wireless equipment that accepts bank debit cards, VISA, Discover, and MasterCard credit cards and Electronic Benefit Transfer cards. Eight vendors welcome Senior Farmers' Market Nutrition checks and IFMNP/WIC checks/vouchers.
The market is a nonprofit, community project sponsored by First Christian Church, the Drake Neighborhood Association and Drake University. For more information, call Ginny Gieseke at w 515-277-6951 or visit the Web site at www.drakefarmersmarket.com.