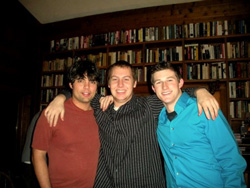 Drake graduate Ted Schleisman, center, poses with friends James Livesey and Andrew Stephenson.
Recent Drake graduate Theodore Schleisman and two of his hometown friends from Middleton, Wis., are celebrating their college graduations on a three-month trip around the globe, including stops at the 2010 FIFA World Cup in South Africa.
The trip also encompasses visits to Ireland, Italy, Spain, Greece, Croatia, Serbia, Bosnia, Austria, the Netherlands, Germany and France.
The group is maintaining social media sites about their experiences at http://www.tosaandbeyond.com/ and on Twitter at @toSAandBeyond.
Schleisman earned his bachelor's degree in actuarial science and finance and graduated from Drake in December 2009. In January, he began working as an actuarial analyst at M Financial in Portland, Ore. The company allowed him to take three months off work for the trip, which was planned over the course of two years.
Preparation began during his junior year at Drake, when Schleisman and his two friends decided to develop a plan for an unforgettable trip around the world after their graduations. The origins of the trip were recently detailed in an article that appeared in the Madison Journal.
"We realized that our plan perfectly correlated with the 2010 World Cup, so we added that to our itinerary," Schleisman said. "We wanted to do this as a last big experience together before we began our careers."
Schleisman credited Drake for preparing him for the trip.
"The college experience taught me to be completely independent, and my experiences at Drake taught me how to interact with persons from all backgrounds," he added. "I learned how to respect every person's point of view and converse with others in order to find out where they come from and what they've seen in their lives."