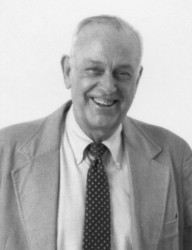 Francis "Frank" Marion Wilhoit
Longtime Drake University professor Francis "Frank" Marion Wilhoit, who died June 9 in Carthage, N.C., was known for drawing and captivating an overflow crowd in his classroom.
"He was an amazing teacher, who regularly received standing ovations from students — quite a motivator when one happened to be teaching next door," said Deputy Provost Sue Wright, who taught alongside Wilhoit. "He truly was an orator and enrolled classes that filled our auditoriums."
Wilhoit described himself as an actor at the podium while teaching — using a rant-and-rave approach and a loud voice.
Another colleague, Professor of Politics Dennis Goldford, said Wilhoit's class was "always packed with students. There would never be a seat left. I was a colleague and a professor and I would come and stand in the back just to watch him perform."
A Drake legend
Wilhoit, 90, who served as professor of political science at Drake from 1961 until his retirement in 1990, held the Thomas F. Sheehan Professorship from 1981-85. He received the Undergraduate Teacher of Year Award in 1982 and was named a Centennial Scholar in Social Sciences in 1980.
"Frank Wilhoit was deservedly considered a legend at Drake," said Walter Clark, professor emeritus of political science, who shared an office with Wilhoit for many years. "He was able to command the classroom with a confidence and excitement about what he was teaching."
Clark said Wilhoit was one of his mentors who helped guide and inspire his teaching and scholarship.
"I consider him to have been one of the greatest teachers that Drake has ever had; his primary interest was always in teaching, and his extensive scholarship, in his own words, was something he did because he liked doing it," he added.
Several colleagues said Wilhoit was also known for his resistance to changes in technology.
"In some ways he was so old school — he would not use a computer for word processing, he would not even use an electric typewriter," Goldford said. "During the five years we were both here, we lost power in Meredith Hall a couple of times, and we couldn't use our computers or electric typewriters — but you could hear Professor Wilhoit proudly banging away on his manual typewriter with his door open. That was very much Frank Wilhoit."
A solid foundation in education
Wilhoit served as a cryptographer in the Army Air Corps WWII before he earned three degrees from Harvard University.
He first earned a history degree and was elected to Phi Beta Kappa. In 1952, Wilhoit received a master's in public administration and then traveled to Brussels, Belgium, as a Fulbright research student. He also earned a Ph.D. in government in 1958.
"He was a fascinating individual… bigger than life," Wright added.
Before joining Drake in 1961, Wilhoit led student bicycle tours in France and Germany as part of an "Experiments in International Learning" program. He also taught French and Latin at Bolles School in Jacksonville, Fla., and taught at Mercer University in Macon, Ga., and the University of Miami, Fla.
Remembering Frank Wilhoit
A memorial service will be held at 4 p.m. Sunday, June 13, at First Baptist Church in Carthage, with visitation in the fellowship hall following the service. Read the entire obituary online.
Memorials can be sent to First Baptist Church of Carthage , P.O. Box 824, Carthage, N.C. 28327 or Liberty Hospice, 300 W. Pennsylvania Ave., Southern Pines, N.C. 28387.
Online condolences may be made at www.PinesFunerals.com.
Wilhoit is survived by his sister, Maxine McPherson, of Carthage; and several nieces and nephews.