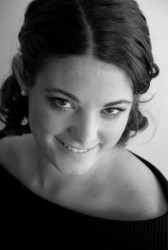 Drake University's Leah McIntire, accomplished vocalist and cellist, will star as the youngest soprano to sing a lead role in a production in Italy by the renowned vocal training program
La Musica Lirica
.
McIntire, a junior from Lamoni, Iowa, will star as Violetta in two full-stage productions of Giuseppe Verdi's "La Traviata" (The Fallen Woman). The opera program, presented by the 11th International Music Festival, will run June 21 to July 24 in Novafeltria, Italy.
The intense summer program consists of professional rehearsals, opera coachings, voice lessons and classes in Italian. The program also will help kick-start McIntire's professional career in vocal performance, connecting her with some of the world's leading teachers, coaches, directors and conductors.
"I am thrilled that Leah has been given this wonderful opportunity," said Leanne Freeman-Miller, Drake associate professor of voice. "She is the youngest singer to be accepted into the program's opera division — which is for advanced, pre-professional singers — and she is also the youngest soprano to be chosen to sing a leading role."
McIntire, 20, auditioned in January for the role of Violetta, a famed courtesan who enters a scandalous love affair with nobleman Alfredo. Due to McIntire's young age, she was originally declined for the part until a turn of events landed her the opportunity of a lifetime.
"They sent me an e-mail with an offer of a supporting role in a smaller opera, which was fine with me because I know I am young to be singing Violetta," she said. "The role is usually played by 30 to 40 year-olds, whose voices and technique are much more mature and developed than mine."
While honored by the invitation, McIntire declined the smaller part because her wedding to David Barnett is set for Saturday, June 19 — two days before the program begins.
"Then," she said, "I got a call from the general director of La Musica Lirica, saying that the singer who was going to play Violetta this summer had a family emergency and will not be doing the role this summer."
When asked what her response was, McIntire said: "Wow!"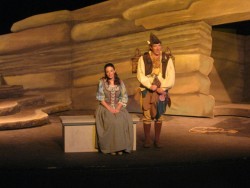 McIntire starred with senior Steven Brandt in Drake's production of "The Magic Flute."
In accepting the role, she received permission to arrive to the program
a few days late, following her wedding. She will be accompanied by her new husband, a missionary of the Iowa Family Policy Center, who will work to assist a missionary couple during their time
abroad as McIntire takes on the most difficult role of her career to
date.
"To sing a role of such dramatic depth and intensity will be a
challenge, and I will have much more stage time than I ever have had
before," McIntire said. "But the vocal training I have received from
Leanne Freeman-Miller has been all about ease and freedom in singing.
This will be especially important as I sing Violetta."
Yet McIntire knows her studies at Drake have prepared her to command the stage with her soprano voice.
"The dramatic coaching I have received from our opera director, Ann
Cravero, has been challenging and exciting. She and the other voice
professors at Drake have really helped me to expand my dramatic
approach to opera," said McIntire, who performed a lead role as Pamina
in Drake Opera Theatre's production of Mozart's "The Magic Flute" last
month.
"It is remarkable how Violetta resonates with both Leah's voice and
personality," Freeman-Miller added. "Though she is young, Leah has a
unique connection to this role and the opera, and I believe audiences
will be enthralled with her performance."
Also a student of Ashley Sidon, Drake assistant professor of cello,
McIntire performs on cello in Drake Symphony Orchestra and has
performed solos with the Fort Dodge Area Symphony. Other accolades
includes:

Four-time winner of state and regional National Association of Teachers of Singing competitions
Winner of the 2008 Music Teachers National Association Senior Voice Competition
Three-time winner of the Drake Symphony Young Artist Competition
Third-place winner of the Des Moines Symphony Youth Competition
Recipient of the Briggs Endowed Cello Scholarship at Drake